061157 - CATEGORY FIVE: A Catalogue of RAF Aircraft Losses 1954 to 2009.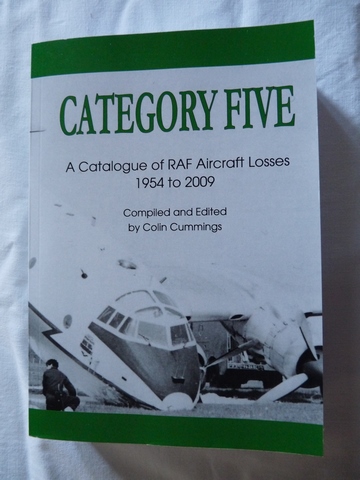 Compiled and Edited by Colin Cummings
From 1954 the RAF and some of the agencies which support its aircraft and systems, have lost through accident and occasional enemy action, over 2600 aircraft.  The cost, in terms of casualties, is approximately 2000 and though most of these are aircrew, some are passengers in the aircraft or civilian men, women and children killed when the aircraft fell to earth.
This book records most of these accidents and lists the majority of casualties.  The greater proportion of the accidents happened during the 1950s and 60s, when standards of training, reliability of systems and aids to safe operation were lower or less sophisticated than in more recent times.
| | |
| --- | --- |
| Format | Softback |
| Pages | 816 |
| Photos | b/w & colour photos throughout |
| Width (mm) | 150 |
| Height (mm) | 210 |
| Dust Jacket | No |
| ISBN | 978-0-9526619-7-9 |
| Price | £22.00 |