030724 - THE LENIN PLOT: The Untold Story of America's Midnight War Against Russia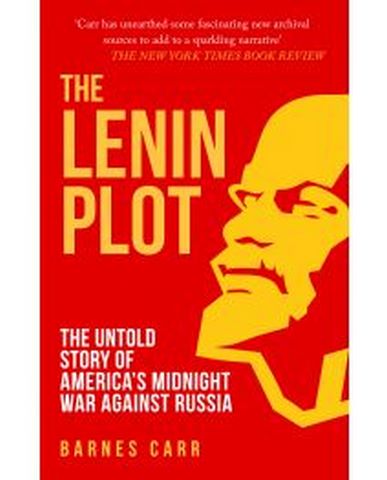 By Barnes Carr
New in paperback - The surprising story of one of the darkest episodes in espionage history: the 'midnight war' devised by America and Allied powers to depose Soviet leader Vladimir Lenin and invade Russia.
It remains one of the most audacious spy plots in history – a bold and extremely dangerous operation to invade Russia, defeat the Red Army, and mount a coup in Moscow against Soviet dictator Vladimir Ilich Lenin. After that, leaders in Washington, Paris, and London aimed to install their own Allied‑friendly dictator in Moscow as a means to get Russia back into the war effort against Germany.
The Lenin Plot had the 'entire approval' of President Woodrow Wilson. As he ordered a military invasion of Russia, he gave the American ambassador, the US Consul General in Moscow, and other State Department operatives a free hand to pursue their covert action against Lenin. The result was thousands of deaths, both military and civilian, on both sides.
A must-read for anyone seeking to understand the true beginning of the Cold War, The Lenin Plot tells the shocking story of this untold episode in American history in fascinating and striking detail.
| | |
| --- | --- |
| Format | Paperback |
| Pages | 416 |
| Publication Date | Available |
| Pictures | 30 illustrations |
| Width (mm) | 129 |
| Height (mm) | 198 |
| Dust Jacket | No |
| ISBN | 978-1-3981-1235-3 |
| Price | £12.99 |