270177 - DE HAVILLAND VAMPIRE In RAF & Overseas Service (Photo Archive No 8)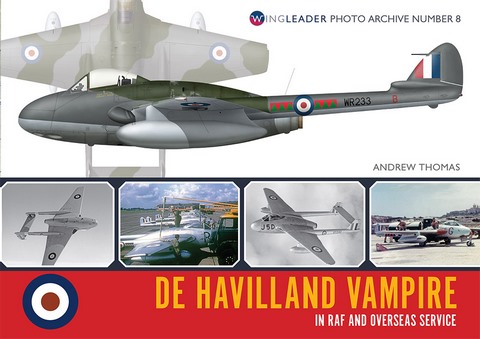 By Andrew Thomas
Taken from the Publishers website:-
This series is unique in that it will be able to provide large format ORIGINAL photos up to full A4 landscape format width, which is at least 50% larger than any standard book can deliver.  Combined with the specialist knowledge of a team of historians and contributors, each book should provide unbeatable and accurate references for any modelling or painting project.
"With this latest volume, we welcome Andrew Thomas to our team of authors.  Andrew is an authority on RAF Squadrons and their histories and, having served in the RAF throughout his working life, has an intimate understanding of the subject.  
When we first looked at doing the Vampire in this series, we quickly realised that there wasn't too much point in concentrating on the technical details of what was a very simple aircraft.  Instead, it seemed to make sense to focus on the operational side so it was clear that Andrew was the man to approach.  Using a combination of his and our photo libraries, we have managed to find photos to illustrate every RAF Squadron that flew the Vampire, plus we've got a good sized section to cover overseas use of this early jet fighter.  We've selected profiles to cover various camouflage and marking variants and have also included colour examples of squadron bars where appropriate.
We do hope you enjoy our first venture into the jet-age in this series, if it proves popular there are certainly several further subjects that we could cover in the future.
As usual in this series, we devote most of the space to high-res original wartime photos, which we examine very closely to pick out details that have been hiding in plain sight for over 70 years."
This book contains approx 120 original wartime/pre-war photos and 6 in-depth colour profiles
Other titles in the series include Supermarine Spitfire Mk 1, Messerschmitt Bf 109 Volume One, Hawker Hurricane Mk 1, Messerschmitt Bf 109 Volume Two, Avro Lancaster Mk I/III, Supermarine Spitfire Mk V, Short Stirling Mk I/III

| | |
| --- | --- |
| Format | Landscape format softback |
| Pages | 80pp |
| Publication Date | Just Arrived! |
| Pictures | approx' 120 photos and 6 full colour profiles |
| Width (mm) | 290 |
| Height (mm) | 210 |
| Dust Jacket | No |
| ISBN |  978-1-906592- |
| Price | £19.95 |