424136 - U-BOOT IM FOCUS Issue 17  (German/English text)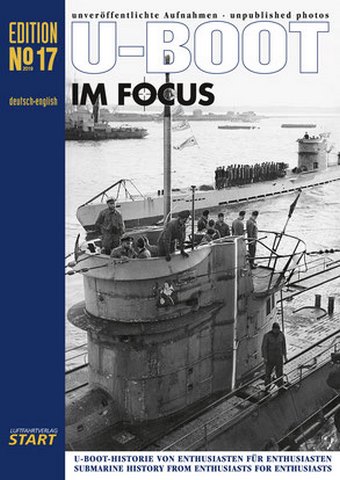 Purchase two or more editions from the series and obtain 20% discount!
This is a specialised publication about German submarines in the Second World War and with the support of archives, private collectors and well-known experts in the field, the series is issued three times per year. 
Most of the photos that illustrate each edition have never before been published, and they are supplemented by informative captions and well-researched articles on all aspects of U-boat operations. The focus of our articles is on lesser-known facts and events. Each edition therefore offers the reader exclusive reading material and unique illustrations. The illustrations are of generous size and the highest quality, printed on glossy paper.
Each edition contains 50 pages, with about 60 photos including several in colour, plus 2 to 3 colour side-views and drawings of conning towers.
U-Boot Im Focus Edition No 17
50 pages with 51 photos - thereof 1 in colour, 3 coloured emblems, 1 coloured document, 2 coloured conning tower frontviews, 4 coloured maps, Readers Forum
• Commanders: Kptlt. Friedrich Guggenberger, Kptlt. Helmut Rosenbaum,Kptlt. Heinrich Schonder, Kptlt. Fritz Frauenheim,Kptlt. Werner Kraus, Oblt.(Ing.) Erich Zürn
• Reader's Forum: The Spanish Cross for SubmarinersU-393 – The Experimental Boat of Testing Group Sultan
• Background: "Wind Strength 11 – We're Linking up with the Convoy!"
• Conning Towers: U-67 – An Early Type IX C Boat with an Unusual Camouflage Scheme
• Boat in Focus: Into Combat with the Queen of Hearts - An Outline of the Operations by the Early Type IX C Boat U-126
• Unusual: The U-Boat War Badge on an Underwear Pullover
• Documents: An Invitation from the Commander of a Milk Cow
• Fates: Sunk Twice for Reasons other than Enemy Action - The Fate of the Luckless Boat U-1234
• U-Tanker: The Doctor Comes Aboard
as well as several photos of U-59, U-108 and further informations
U-Boot Im Focus Edition No 16
50 pages with 66 photos - thereof 10 in colour, 1 coloured document, 1 coloured conning tower frontviews, 3 coloured emblems, 2 coloured maps, Readers Forum.
• Boat in Focus: Photo Supplement – Operations by U-481 in the Gulf of Finland • Unusual: Signs for smokers and "fresh air-catchers" • Photos with a Story:  U-995 Then and Now  -  How original is the museum boat in Laboe?  • Scenery: Coastal Convoy  • Boat in Focus: U-393 – The Experimental Boat of Testing Group Sultan  • Unusual: A Submariner Takes a Bath at Sea   • Documents: A Submariner's Role Card   • Color Photos: Italian Submarine Flying the Reich War Flag as well as several photos of U-387, U-19, U-576, U-37, U-168 and further information.  Price £25.00
U-Boot im Focus Edition No 15
58 pages with 63 photos - thereof 13 in colour, 1 coloured document, 1 coloured conning tower sideview, 2 coloured boat-sideviews, 3 maps, Readers Forum
• Unusual: The Commander Lends a Hand  • Boat in Focus: U-84 – The Story of a Boat Patrols off Newfoundland, America and in the Caribbean  • Documents: The Krupp Germaniawerft AG's Knight's Cross Certificate  • Conning Towers: U-431 – One-Off Camouflage Scheme in the Mediterranean  • Fates: The Last Photos and the Last Voyage of Kptlt. Schepke (U-100)  • Photos with a Story: U-Boat Code Names in the Bases at St. Nazaire and La Pallice  • Scenery: A Look into the Conning Tower  • Cap Badges: U-50's Big "Whale" Cap Badge  • Interior Shots: U-109 as well as photos of U-437, U-561, U-65, U-237 and further information.  Price £25.00
| | |
| --- | --- |
| Format | Softback, stapled binding |
| Pages | 50 |
| Publication Date | Available |
| Pictures | 51 photos |
| Width (mm) | 210 |
| Height (mm) | 297 |
| Dust Jacket | No |
| ISBN | 978-3-941437-41-8 |
| Price | £25.00 |