024238 - TO SAVE AN ARMY: The Stalingrad Airlift (SALE - 20% discount)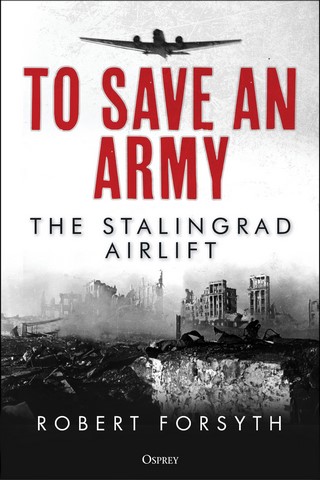 By Robert Forsyth
Using the diaries of Luftwaffe commanders, rare contemporary photographs and other previously unpublished sources, Robert Forsyth analyzes the human, strategic, tactical and technical elements of one of the most dramatic operations arranged by the Luftwaffe.
Stalingrad ranks as one of the most infamous, savage and emotive battles of the 20th century. It has consumed military historians since the 1950s and has inspired many books and much debate. This book tells the story of the operation mounted by the Luftwaffe to supply, by airlift, the trapped and exhausted German Sixth Army at Stalingrad in the winter of 1942/43. The weather conditions faced by the flying crews, mechanics, and soldiers on the ground were appalling, but against all odds, and a resurgent and active Soviet air force, the transports maintained a determined presence over the ravaged city on the Volga, even when the last airfields in the Stalingrad pocket had been lost.
Yet, even the daily figure of 300 tons of supplies, needed by Sixth Army just to subsist, proved over-ambitious for the Luftwaffe which battled against a lack of transport capacity, worsening serviceability, and increasing losses in badly needed aircraft.
Using previously unpublished diaries, original Luftwaffe reports and specially commissioned artwork, this gripping battle is told in detail through the eyes of the Luftwaffe commanders and pilots who fought to keep the Sixth Army alive and supplied.
| | |
| --- | --- |
| Format | Hardback |
| Pages | 352pp |
| Publication Date | In Stock |
| Pictures | several pages of b/w photos.  Colour side views of aircraft and colour diagram of air-drop container |
| Width (mm) | 160 |
| Height (mm) | 240 |
| Dust Jacket | Yes |
| ISBN | 978-1-4728-4541-2 |
| Price | £25.00 (less 20% discount = £20.00) |