026407 - IN THE CLAWS OF THE TOMCAT: US Navy F-14 Tomcats in Air Combat against Iran and Iraq, 1987-2000 (20% discount offered on this title)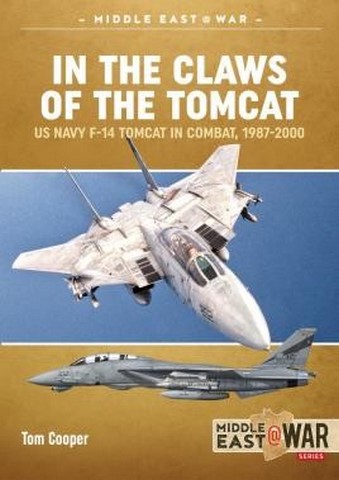 By Tom Cooper
Equipped with well-balanced air wings, huge aircraft carriers have formed the backbone of the United States Navy's doctrine and strategy since the Second World War. Packing an enormous punch, their purpose is to exercise control over enormous portions of airspace – in the offence or defence.
From the mid-1970s until the mid-2000s, the spear tip of the USN air wings was the famous Grumman F-14 Tomcat – widely considered one of the finest air superiority systems in the world. Originally designed as a fast, manoeuvrable and well-armed fighter, the Tomcat entered service as the ultimate long-range fleet defender and became the biggest, most complex and most expensive naval aircraft of its time. Including a unique and exceptional combination of flight characteristics, detection systems and weapons, it earned itself the status of a legend by the mid-1980s.
The F-14 Tomcats of the US Navy achieved their first aerial victories during freedom of navigation exercises off Libya in 1981. However, the period during which they saw most combat followed several years later, during Operations Earnest Will and then Desert Storm, from 1987 until 1991.
To date, very little has been published about the operations in question. Indeed, the widespread belief is that USN F-14s saw next to no air combat against Iran, and even less so during Operation Desert Storm in 1991. As so often, the reality is entirely different: Tomcats engaged dozens of opponents, often on the verge of the engagement envelope of their powerful AWG-9 radars and AIM-54 Phoenix long-range air-to-air missiles, and sometimes at such close ranges that their pilots selected 'guns'. Weather- and communications-related problems, but also the incredible discipline of their crews prevented them from scoring up to a dozen aerial victories: however, it is perfectly possible that they scored at least one, perhaps more previously entirely unknown aerial victories – and also lost one of their own to an enemy fighter.
Richly illustrated by over 100 photographs and authentic colour profiles, 'Tomcats of the Storm' is an exclusive source of reference about some of least-well known air combats fought by US Navy's fighter crews in recent history.
Format
Softback with glossy card covers
Pages
80
Publication Date
In Stock
Pictures

89 b/w photos, 1 colour and 6 b/w photos, 3 b/w diagrams, 21 colour profiles, 7 tables

Width (mm)
210
Height (mm)
297
Dust Jacket
No
ISBN
978-1-913118-75-4
Price

£16.95 (less 20% discount = £13.56)

Plus p&p.