026113 - DESPERATE SUNSET: Japan's Kamikazes Against Allied Ships, 1944-45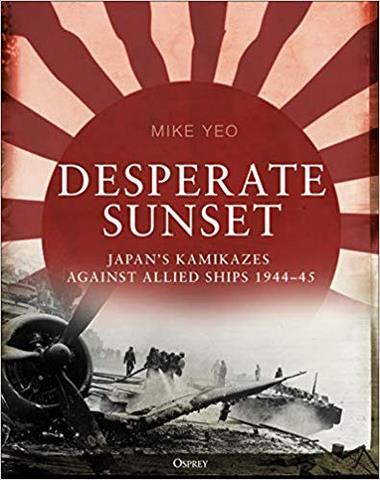 By Mike Yeo
By the middle of 1944, Imperial Japan's armed forces were in an increasingly desperate situation. Its elite air corps had been wiped out over the Solomons in 1942–43, and its navy was a shadow of the force that had attacked Pearl Harbor in 1941. But the Japanese had one last, desperate, card to play.
The Japanese High Command decided that the way to inflict maximum damage on the superior enemy forces was to get the poorly trained Japanese pilots to crash their explosive-laden aircraft onto their target, essentially turning themselves into a guided missile. The kamikazes announced themselves in the immediate aftermath of the Leyte Gulf naval battles, sinking the USS St. Lo and damaging several other ships. The zenith of the kamikaze came in the battle of Okinawa, which included ten kikusui (Floating Chrysanthemum) operations which involved up to several hundred aircraft attacking the US fleet.
Fully illustrated throughout, Desperate Sunset examines the development and evolution of the kamikaze using first-hand accounts, combat reports and archived histories.
| | |
| --- | --- |
| Format | Hardback |
| Pages | 352pp |
| Publication Date | Out Now! |
| Pictures | Illustrated throughout |
| Width (mm) | 195 |
| Height (mm) | 250 |
| Dust Jacket | Yes |
| ISBN | 978-1-4728-2941-2 |
| Price | £35.00 |