USA
040607 - BLOOD AND FEARS: How America's Bomber Boys and Girls in England Won Their War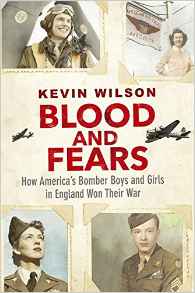 By Kevin Wilson
The US 8th Air Force came of age in the England of 1944. With a fresh commander, it was ready to demonstrate its true power: from Big Week in February, targeting German aircraft production plants, to bringing the Luftwaffe to battle over Berlin, the combined USAAF-RAF round-the clock campaign of bottling up the German army in Normandy and the strategically vital oil offensive of the following autumn and winter. Day after day, the American bomber boys watched their comrades burn to death in blazing bombers, be thrown out of exploding aircraft without parachutes and sink with their crippled aircraft in the freezing North Sea. But by the following spring they had destroyed the Nazi fighter arm and seen Germany broken in two.
In this comprehensive history, Kevin Wilson has allowed the youngsters of the 8th to tell their stories of blood and heroism in their own words. At the same time, he has opened up the lives of the Women's Army Corps and Red Cross girls who served in England with them and feared for the men in the skies, and he hasn't flinched from recounting the devastation of bombing or the testimony of shocked German civilians.
Wilson has interviewed American veterans and trawled archives in both the United States and Britain to complete this final volume of his air-war series, adding to his critically acclaimed trilogy about the RAF and Commonwealth air forces' bomber offensive. Drawing on first-hand accounts from diaries, letters and his personal recordings, the author has brought to life the ebullient Americans' interaction with their British counterparts and the civilians who lived near the air bases, unveiling stories of humanity and heartbreak. Thanks to America's bomber boys and girls, life in Britain would never be the same again.
| | |
| --- | --- |
| Format | Hardback |
| Pages |  560 |
| Publication Date | Out Now! |
| Pictures | 16 pages b/w photos |
| Width (mm) | 164 |
| Height (mm) | 236 |
| Dust Jacket |  Yes |
| ISBN | - |
| Price | £25.00 |