USA
040586 - KILLED IN ACTION: The Story of Robert Holly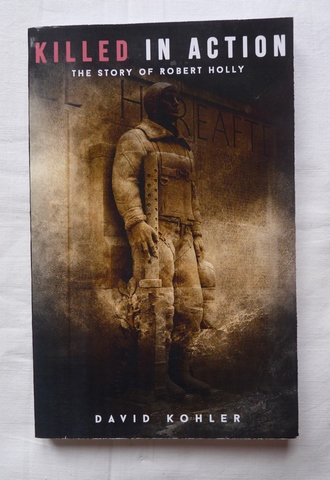 By David Kohler
This book tells the life of a young soldier, Robert Holly, whose life was tragically ended when the B 24 on which he was a crew member collided with another and crashed into the sea near Kiel, Germany. Hollys body was never found. His story is told by the letters he sent home and by many documents that chronicle his short life and the aftermath of his death. Throughout the telling of Robert Hollys story the author gives examples of countless other individuals killed by the war and lost without a trace. Killed in Action not only tells the story of Robert Holly, but serves as a memorial to all those, who like him, were killed and disappeared without a trace.
Robert Holly was a rear gunner on B-24 Liberators with the 389th Bombardment Group out of Hethel, Norfolk.  He was lost in the sea near Kiel, Germany and his body was never found.
Signed copies available!
| | |
| --- | --- |
| Format | Softback |
| Pages | 236 |
| Publication Date | Few copies remaining |
| Pictures | some b/w photos  |
| Width (mm) | 130 |
| Height (mm) | 210 |
| Dust Jacket | No |
| ISBN | - |
| Price | £10.00 |