German
034481 - LUFTWAFFE Im FOCUS EDITION 31 (German/English text)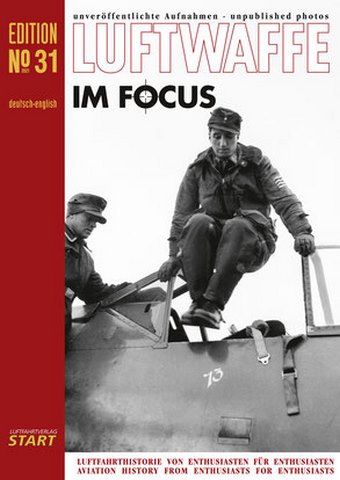 Volumes 18 to 29 are currently available, each £25.00 plus Special No 3 on the Bf 109.
Volume 31 includes:- 50 pages, 56 photos - thereof 3 in colour, 6 colour graphics, 4 coloured emblems, 4 coloured documents, 3 coloured maps, reader's forum
Aircraft in Focus: An Me 410 of ZG 26 with Wave Mirror Camouflage
Unknown Emblems: It Really Did Exist – Luftgaukommando Moskau
Scenery: First Photos of the Ju 252 of "Kommando Götz" (1944)
Background: The Operational Flying Clasp and Staffel Markings of III./KG 1 – 1940-1942
Unusual: The Ju 52 for Night Operations!
Photos with a Story: The First Fallen of "Kommando Nowotny"
Last Photos of Major Walter Nowotny
Color Photos: Wave Mirror Camouflage on a He 111 of KG 27
Scenery: Spa Time" Before a Mission over England (KGr. 606)
Personal Emblems: Only the "Finest" For the Enemy! (KG 26)
Tails: The Tail of Priller's Bf 109, For Once in Its True Colours (JG 26)
Reconnaissance Aircraft: What Is That? Unidentified Equipment under the Wing of a Bf 110
As well as additional informations about the articels: "II./StG. 2 in Action at Stalingrad in
Late Summer 1942" (LIF 27) and "Kurierstaffel (trop) Afrika – The Unit with many Names"
(LIF 30) and photos of Bf 109 and Fw 58.
Buy two or more volumes from this series or mix'n match with "U-Boot Im Focus" series (those which are in stock) and get 20% discount!
| | |
| --- | --- |
| Format | Softback, stapled |
| Pages | 50pp |
| Publication Date | Coming very soon! |
| Pictures | 56 photos, 3 in colour, 6 colour graphics, 4 coloured emblems, 4 coloured documents, 3 coloured maps |
| Width (mm) | 210 |
| Height (mm) | 280 |
| Dust Jacket | No |
| ISBN | 978- |
| Price | £25.00 |