German
034478 - LUFTWAFFE Im FOCUS EDITION 28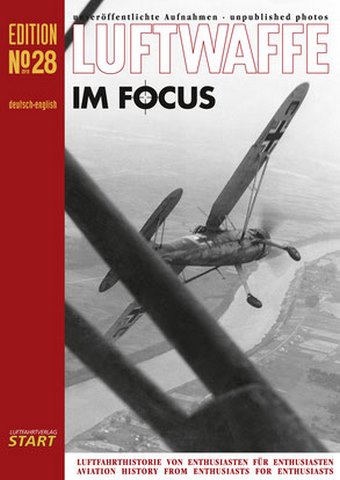 Volumes 18 to 28 are currently available, each £25.00 plus Special No 3 on the Bf 109.
Includes:-  50 pages, 54 photos - thereof 4 in colour, 4 colour profiles, 2 coloured emblems, 3 coloured maps, reader's forum
 • Bombers: A Second Helping of the Special Weapons on the Ju 88s of KG 51
• Unknown Emblems: The Ominous "Schleppgruppe 4"
• Background: The Luftwaffe's X-Ray Stuka
The Luftwaffe Aviation Medicine Service's Investigations during Diving Flight
• Fates: Missing During an Ice Reconnaissance
Mission over the Gulf of Finland The fate of a crew from Wekusta 1
• Aircraft in Focus: Hptm. Hans von Hahn and his "Friedrich" with the Ring Camouflage
An unusual camouflage scheme on the aircraft of the Kommandeur of I./JG 3 
• Unusual: When It Comes to Camouflage, Anything Goes!
• Photos with a Story: New Photos of the Ju 388
• Color Photos: A Different General der Flieger Ritter von Greim 
• Tails: Fw. Karl Gratz, 8./JG 52 and 11./JG 2
• Personal Emblems: The Much-Photographed Do 17 "Madrid"
• Allied Fates Victim of the Raid on Berlin on April 29, 1944
• Scenery: An Aircraft in the Middle of Town!and markings. In all, 67 photos grace the contents of the book, each with detailed captions

 As well as photos of Do 217 of KG 40, Bf 109, Bf 110 nightfighter and seaplanes and photos to more topics .....
| | |
| --- | --- |
| Format | Softback, stapled |
| Pages | 50pp |
| Publication Date | Out Now! |
| Pictures | 54 photos, 4 colour profiles, 2 coloured emblems, 3 colour maps |
| Width (mm) | 210 |
| Height (mm) | 280 |
| Dust Jacket | No |
| ISBN | 978-3-941437-39-5 |
| Price | £25.00 |