American
036862 - THE MODERN SUPER HORNET GUIDE, 2nd Edition - The Boeing F/A-18E/F & F/A-18G Exposed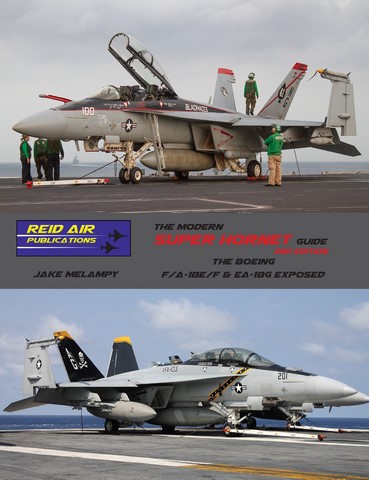 By Jake Melampy
The original Super Hornet Guide, published in 2011, was sold completely out of stock in a shocking three years, and has been sold in the second-hand market for remarkable prices.  It remains the ONLY quality reference source on the Super Hornet, so we thought it was time to make an even better book.
This 2nd Edition is bigger at 178 pages, more images with 1028 full-color photographs, and more coverage of all versions of the Super Hornet.  
As usual with any book in the Modern Guide series, The Modern Super Hornet Guide gives the reader an exhausting look at all parts of the jet, from the tip of the radome to the engines, and everything in between.  Covers squadrons, carrier operations, the EA-18G Growler, and more!!
Other titles from this Publisher.  All are available with the Publisher as at September 2020.  I do not keep these in stock but can order them.  These were the last prices but this can change due to fluctuations in exchange rate and postal prices.  Due to covid-19, some deliveries are taking 6 weeks from the USA at present.
036851 THE VIPER STORY, Part II, Test and Training F-16s by Jake Melampy.  Hardback, no jacket, 220 x 285mm, 184 pages, full colour throughout. £29.95
036852 THE SCALE VIPER: A Modeler's Guide to Building the F-16 by Pete Fleischmann.  Softback, 215 x 280mm, 102 pages, full colour throughout. £33.95
036853 THE MODERN EARLY VIPER GUIDE: The F-16A/B Exposed by Jake Melampy.  Softback, 215 x 280mm, 196 pages, full colour throughout. £39.95
036854 A-10 THUNDERBOLT II: 21st Century Warthog by Neil Dunridge.  Softback, landscape format, 280 x 220mm, 180 pages of colour. £39.95
036855 THE MODERN HORNET GUIDE: The Boeing F/A-18 A/B/C/D Exposed by Jake Melampy.  Softback, 215 x 280mm, 208 pages, full colour throughout. £39.95
036856 THE SCALE HORNET: A Modeler's Guide to Building the F/A-18 Hornet/Super Hornet by Pete Fleischmann.  Softback, 215 x 280mm, 150 pages, full colour throughout. £39.95
036857 THE MODERN EAGLE GUIDE 2nd Edition: The Boeing F-15 Eagle/Strike Eagle Exposed by Jake Melampy.  Softback, 215 x 280mm, 204pp, full colour throughout. £39.95
036858 THE MODERN HOG GUIDE 2nd Edition: The A-10 Warthog Exposed by Jake Melampy.  Softback, 172 pages, full colour throughout. £39.95
036859 THE MODERN SLUF GUIDE: The A-7 Corsair II Exposed by Jake Melampy.  Softback, landscape format, 280 x 215mm, 184 pages, full colour throughout. £39.95
036860 THE MODERN VIPER GUIDE 2nd Edition: The F-16 C/D Exposed by Jake Melampy.  Softback, 215 x 280mm, 240 pages, full colour throughout. £39.95
036861 THE MODERN PROWLER GUIDE: The Grumman EA-6B Exposed by Jake Melampy.  Softback, 164 pages, full colour throughout, 215 x 280mm. £39.95
| | |
| --- | --- |
| Format | Softback |
| Pages | 178 |
| Publication Date | In Stock |
| Pictures | 1,028 colour photos |
| Width (mm) | 215 |
| Height (mm) | 280 |
| Dust Jacket | No |
| ISBN | - |
| Price | £39.95  |