011031 - KEN'S MEN AGAINST THE EMPIRE: The Illustrated History of the 43rd Bombardment Group During World War II Volume II: October 1943 to 1945 B-24 Era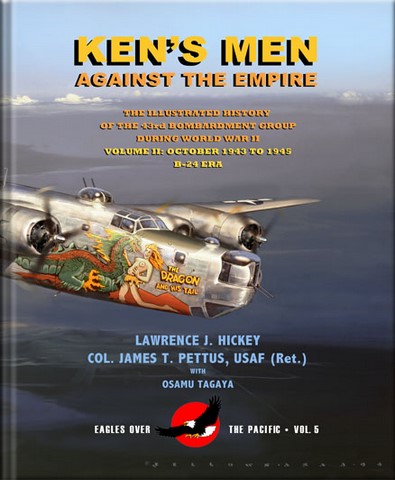 By Lawrence J Hickey, James T Pettus with Osamu Tagaya (Eagles Over The Pacific Series, Volume Five)
Volume II picks up the story of the 43rd Bomb Group at the beginning of November 1943, by which time the last of its B-17s had returned to the States or been turned into armed transports or VIP aircraft. While the rest of the unit's squadrons fully ramped up operations with the B-24 Liberator, the 63rd Squadron received a full complement of new radar-equipped B-24s with specially trained crews to conduct low-level night search and bombing operations against Japanese shipping. Operating in great secrecy, and separately from the other three squadrons of the 43rd, this highly successful unit eventually ranged around the entire Pacific perimeter of east Asia, sinking or damaging large numbers of Japanese merchant ships. Meanwhile, the other three B-24 squadrons continued to fly standard heavy bombardment missions against the far-flung land targets of the Southwest Pacific Theater including New Guinea, the Netherlands East Indies, the Philippines, Formosa and coastal targets on the Asia mainland, until they finally reached the shores of Japan itself.
B-24's from the 43rd Bomb Group over target areaThe 43rd was one of the key units participating in the famous raids on Hollandia in Dutch New Guinea during the spring of 1944, and against the oilfields at Balikpapan, Borneo during the fall. In 1945, the Group was instrumental in battering the industrial targets, ports and transportation infrastructure of Formosa to rubble. Along the way, the 43rd adopted the name Ken's Men after three famous theater leaders who were significant to the history of the unit: General George C. Kenney, commander of Fifth Air Force, Gen. Kenneth Walker, C.O. of V Bomber Command, who was lost on a 43rd Bomb Group mission over Rabaul on January 5, 1943, and Ken McCullar, one of the 43rd's most successful early squadron commanders.
Co-authored by the former Group Commander during the B-24 era, Col. James T. Pettus, Jr., Ken's Men Against the Empire: The B-24 Era tells an extraordinary story of the second half of the Pacific War, created from all available surviving unit records blended together with the stories of hundreds of veterans. The book is in final production and will appear as Volume 5 in the Eagles over the Pacific book series. It will consist of about 350 pages, a color section with dozens of rare color photos of the artwork and markings on the unit's aircraft, full-color B-24 aircraft profiles that includes several pages of enlargements of unit markings and artwork rendered in near-photographic images by IHRA art director Jack Fellows.
NB:  I have a few copies available which have been slightly damaged in transit (ie: one corner has been knocked).  This does not affect the content.  I am selling these for £70.00.
Mint copies are also now in stock at £85.00 including free UK postage.
| | |
| --- | --- |
| Format | Hardback |
| Pages | 464pp |
| Publication Date | Available |
| Pictures | Over 600 photos |
| Width (mm) | 220 |
| Height (mm) | 300 |
| Dust Jacket | No |
| ISBN | - |
| Price | £85.00 including FREE UK postage (Royal Mail 2nd class) |