020578 - THE KASSEL RAID: 27 September 1944 The Largest Loss by USAAF Group on any Mission in WWII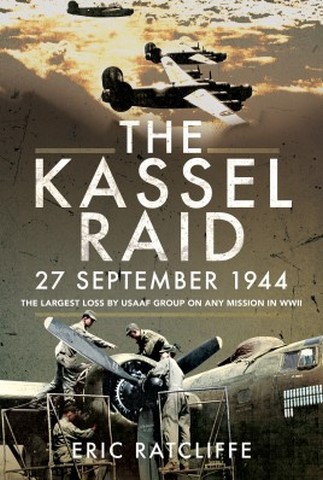 By Eric Ratcliffe
On Thursday, 28 September 1944, a force of 283 Consolidated B-24 Liberator bombers from the USAAF's 2nd Combat Bombardment Wing, took off from their bases in Britain and headed out across the North Sea escorted by 198 P-51 Mustang fighters. The bombers' target was the industrial city of Kassel in northern Germany.
Among the bombers assigned to the raid were the aircraft of the 445th Heavy Bombardment Group. Thirty-five of the 445th's Liberators, along with the 336 men who made up their crews, took off from their base near the village of Tibenham in Norfolk. Their specific target that day was the engineering works of Henschel & Sohn which built Tiger and Panther tanks.
Kassel had been bombed by the Allied air forces in the past, most notably in October 1943 when more than 500 bombers had dropped 1,800 tons of bombs creating a firestorm that had ravaged the city. The raid on 28 September 1944, however, would have a far different result.
Due to a navigational error, the lead Liberator of the 445th Heavy Bombardment Group turned due east instead of east-south-east and the following thirty-five bombers missed Kassel altogether, attacking an alternative target. But the worst was to come. The change of direction meant that the bombers lost their escorting Mustangs and on the return flight they were pounced on by 150 enemy fighters – and massacred.
Within just six minutes, the 445th experienced the greatest single-day losses suffered by any group from one airfield in the history of aviation warfare. Twenty-five of the Liberators were shot down inside Germany itself; three crashed en route to the coast (two in France and one in Belgium); two made forced landings at an emergency airfield in England; and the last came to grief within sight of home. Just four of the original thirty-five B-24s landed safely back at Tibenham. The human cost was equally high. In the course of just a few minutes, 117 airmen lost their lives, including eleven who were murdered after parachuting safely to the ground. A further 121 men were taken prisoner; only ninety-eight returned to duty.
In this highly moving account of the Kassel raid, the author, who lives close to the Tibenham airfield, uncovers the painful details of those terrible moments in September 1944 through the stories of those who survived one of the Second World War's most disastrous operations in the USAAF's battle against the Luftwaffe.
| | |
| --- | --- |
| Format | Hardback |
| Pages | 200 pages |
| Publication Date | Currently out of print |
| Pictures | 55 b/w illustrations |
| Width (mm) | 152 |
| Height (mm) | 229 |
| Dust Jacket | ? |
| ISBN | 978-1-52677-462-0  |
| Price | RRP  £19.99  |