011439 - THE TERRITORIAL AIR FORCE: The RAF's Voluntary Squadrons 1926 - 1957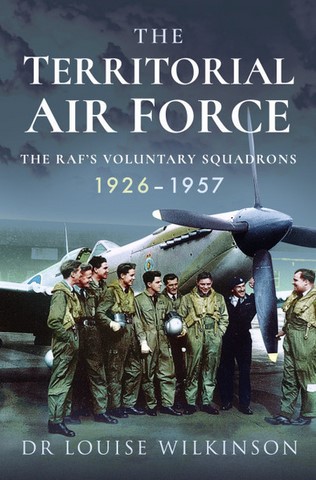 By Dr Louise Wilkinson
To date, little has been written about the Territorial Air Force as a voluntary military organisation and no sustained analysis of its recruitment and social composition undertaken. Made up of three different parts, the Auxiliary Air Force, the Special Reserve and the Royal Air Force Volunteer Reserve, these three separate and different groups have not featured significantly in existing literature.
Current historiography of the AAF and SR is dominated by the experiences of Nos. 600 and 601 Squadrons, which were based in London, and presents a popular image of a gentlemen's flying club, whilst that of the RAFVR presents an image of a much more egalitarian institution, intended to be a citizens' air force.
This book will present the history of the Territorial Air Force from its creation in the early 1920s until 1957. It will consider the ideas behind the formation of two different types of reserve for the RAF and it will examine the way in which men were recruited for the three different groups.
Woven throughout the text will be an analysis of how the volunteers joined, and what kinds of men were accepted into the organisations as both pilots and officers. It will also analyse the influences class and social status had on recruitment in the run up to the Second World War. It will explore the key differences between the Auxiliary squadrons and the SR squadrons, as well as the main reasons for the idea of merging the SR squadrons into the AAF squadrons. It will briefly discuss the newly formed University Air Squadrons which were set up to promote "air mindedness" and to stimulate an interest and research on matters aeronautical.
Military voluntarism continued to play a key role in the defence of twentieth-century Britain, but the underlying tensions and weaknesses associated with a class-based voluntary culture meant that the TAF had to change in response to new pressures. Class ceased to be the key determining factor in the recruitment of officers as the organisations faced new challenges. Within both the AAF and the RAFVR the pre-war impression of a gentlemen's flying club finally gave way to a more meritocratic culture in the post-war world.
| | |
| --- | --- |
| Format | Softback |
| Pages | 344 |
| Publication Date | April 2023 |
| Pictures |  ? |
| Width (mm) | 156 |
| Height (mm) | 234 |
| Dust Jacket | No |
| ISBN | 978-1-52679-799-5 |
| Price | £16.99 |