011435 - TARGET GERMANY: No 186 Squadron 1944-45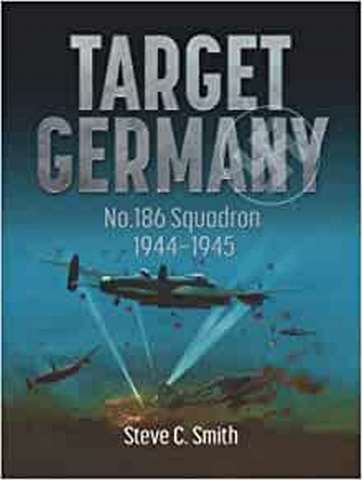 By Steve C Smith
Formed in October 1944 in No.3 Group RAF Bomber Command, No.186 Squadron was pitched immediately into the relentless bomber offensive from its formation. Initially established with the help of No.90 Squadron, the new squadron would be equipped with the excellent Avro Lancaster.
From the very outset, the squadron was staffed by the very best crews that No.3 Group could offer. This included its commander officer, Wing Commander Giles DSO DFC. Under his leadership, the squadron quickly earned a reputation as reliable and highly motivated. This was not surprising given its Commanding Officer, handpicked flight commanders, and many second tour crews. The squadron would play a pivotal role in the destruction of Germany's important transportation and oil facilities over the last seven months of WW2. Sadly, this success came with a price in young lives. By May 8th, 1945, the squadron had flown 871 sorties. Target Germany combines the operational history of the squadron with individual stories from those who served, with numerous never before published photographs. This is a long-overdue book on a forgotten squadron. 
NB:  This is a print on demand item.  I will try and keep a few in stock but please be aware that delivery may take 3/4 weeks.
| | |
| --- | --- |
| Format | Hardback |
| Pages | 329 |
| Publication Date | Copies in stock very soon! |
| Pictures |  b/w photos |
| Width (mm) | 215 |
| Height (mm) | 280 |
| Dust Jacket | No |
| ISBN | 978-1-91533-506-7 |
| Price | £25.00 |