011925 - 50 SQUADRON: RAF BOMBER COMMAND PROFILES And Others in the Series by Chris Ward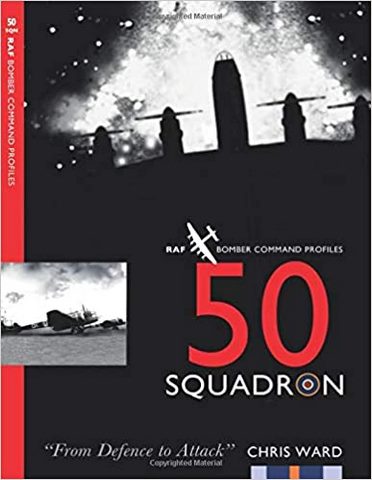 Researched, compiled and written by Chris Ward
When the Second World War broke out, 5 Group of RAF Bomber Command stood ready with six squadrons, five in the front line and one in reserve to train new crews. 50 Squadron was among the former, and, like the others, was commanded by a mature, long-serving career officer, while the Air Officer Commanding the group was none other than AVM Sir Arthur Harris, a man who had studied and developed the art of bombing by both day and night, and would, within two-and-a-half years, find himself occupying the throne of Bomber Command. The front-line squadrons of each group acted almost like an academy, through which the new bright lights of the Command would pass on their way to filling the roles of flight and squadron commanders as the old guard faded away. 50 Squadron enjoyed a fairly gentle start to the war, but, once the gloves came off, first, with the Norwegian campaign of April 1940, and then the Nazi advance into the Low Countries and France in May, it was thrust into a hectic round of bombing and mining operations, which would see its crews operating against the enemy almost nightly throughout the summer and autumn. It was during this time that future stars began to shine, and, in the course of the ensuing two years, many passed through, who would go on to greater things, among them John Hopgood, Henry Maudslay, "Mickey" Martin and "Les" Knight and their crews, who would gain fame as Dambusters, some to lose their lives and others to survive. The squadron was blessed with outstanding leadership in the form of "Gus" Walker, Bill Russell and Robert Frogley to name but three of them, and, there is no question, that their willingness to lead from the front inspired those under their command. The squadron took part in all of the Command's major campaigns, contributing in particular to those in 1943 and later against the Ruhr, Hamburg, Berlin, pre-invasion railway and coastal battery targets, flying bomb sites, canals, oil and tactical support for the ground forces. Its lower than average casualty figure speaks volumes for its professionalism and dedication to excellence, and its wartime record may be equalled, but never surpassed.Chris Ward's Profile of 50 Squadron tells the wartime operational history of this fine unit in a magnificent 498-page, 8.5 x 11 inch format and is fully illustrated.
 Also available in the RAF Bomber Command Profiles series by Chris Ward:-
(NB: These are print-to-order items.  I try and carry a few in stock but otherwise there may be a short wait before delivery).
011926    10 Squadron RAF     £13.50
011928     83 Squadron RAF    £15.00
011928    101 Squadron RAF   £13.50
011929    103 Squadron RAF   £14.99
011930    106 Squadron RAF   £15.00
011931    115 Squadron RAF   £15.00
011932    138 Squadron RAF   £20.00
011933    207 Squadron RAF   £18.00
011934    300 Squadron RAF   £14.99
011935    75 (NZ) Squadron    £18.00
011936    514 Squadron RAF   £15.00
| | |
| --- | --- |
| Format | Large format softback |
| Pages | 498 pages |
| Publication Date | Available |
| Pictures | B/w photos throughout |
| Width (mm) | 215 |
| Height (mm) | 280 |
| Dust Jacket | No |
| ISBN | 978-191125-554-3 |
| Price | £16.20  |