521149 - MY FRIENDS, THE ENEMY: Life In Military Intelligence During The Falklands War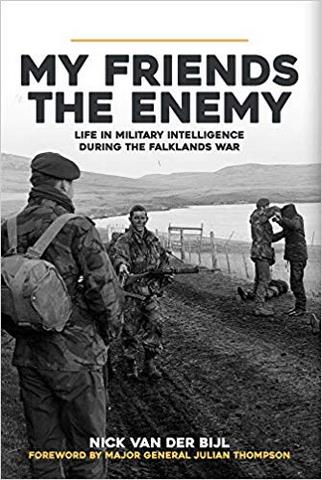 By Nick Van Der Bijl.  Foreword by Major General Julian Thompson
'On the beach the Lieutenant asked if he could say a prayer before being shot. "Don't be so bloody silly," I replied, "get into the boat."'
My Friends, The Enemy recounts the Falklands War from the viewpoint of the only Intelligence Corps in HQ 3 Commando Brigade and serving with its Intelligence Section of Royal Marines, It is a personal account supported by intelligence assembled since 1982.
Nick van der Bijl was a Staff Sergeant and his role meant that he was expected to provide accurate intelligence to Brigade Headquarters and deploy specialist skills. Little was known about the Argentine threat and so the Intelligence Section was very heavily involved in collecting, collating and distributing intelligence from a variety of sources, initially from the UK and after landing at San Carlos Water, also from documents, prisoners of war, and a counter-intelligence operation. While the intelligence proved to be accurate throughout the campaign, some has been controversial, particularly relating to the Battle of Goose Green. Van der Bijl was one of the first into Stanley after the Argentinian surrender and was part of an intelligence operation that searched enemy HQs for documents and selected several hundred officers for further interrogation.
My Friends, The Enemy is the first time that the story of intelligence operations has been told by a witness to events in the Falklands from the start of the campaign to the finish.
| | |
| --- | --- |
| Format | Hardback |
| Pages | 304pp |
| Publication Date | Due 15th February |
| Pictures | 20 illustrations |
| Width (mm) | 156 |
| Height (mm) | 234 |
| Dust Jacket | ? |
| ISBN | 9781-44569-418-4 |
| Price | £20.00 |