430200 - LEGENDS OF WARFARE - NAVAL SERIES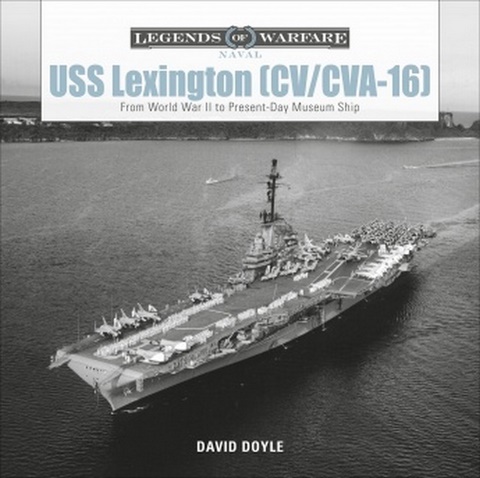 By various Authors
The "Legends of Warfare" series of books encompasses ground, naval and aerial warfare, with volumes heavily illustrated with vintage photography, often augmented with detail photographs of preserved examples.  
These 9-inch square, 112 to 128-page hardcover volumes offer great content at an economical price. They combine the high production values that Schiffer is known for, with high-quality, often obscure imagery and detailed text.


Buy two or more for 20% discount.  Not all of this series is kept in stock and so please allow one to two weeks for delivery.  Mix & Match with any item from the "Ground", "Naval" or "Aerial" series.
Titles available in this series:-
430201   USS Yorktwon (CV-5): From Design and Construction to the Battles of Coral Sea and Midway
430202   USS North Carolina (BB-55) From WWII Combat to Museum Ships
430203   USS Tennessee (BB-43): From Pearl Harbor to Okinawa in World War II
430204   USS Nimitz (CVN-68): America's Supercarrier: 1975 to the Present
430205   USS Iowa (BB-61): The Story of "The Big Stick" from 1940 to the Present
430206   PT Boats: The US Navy's Fast Attack Patrol Torpedo Boats in World War II
430207   USS New Jersey (BB-62): From World War II, Korea and Vietnam to Museum Ship
430208   USS New York (BB-34): From World War 1 to the Atomic Age
430209   US Landing Craft of WWII: Vol 1: The LCP(L), LCM and LCI.
430210   USS Missouri (BB-63): America's Last Battleship
430211   USS Lexington (CV/CVA-16): From World War II to Present Day Museum Ship
430212   USS Hornet (CV-8): From the Doolittle Raid and Midway to Santa Cruz
430213   Liberty Ships: America's Merchant Marine Transport in World War II
BUY ANY TWO OR MORE AND GET 20% DISCOUNT - Plus p&p at cost!  You can also mix & match with the Legends of Warfare Aerial and Naval series.
Format
Hardback
Pages
112 to 128 pages
Publication Date
 
Pictures

colour & b/w images

Width (mm)
225
Height (mm)
225
Dust Jacket
No
ISBN
978-0-7643-
Price

£18.99

Prices can fluctuate with exchange rate changes.