247019 - UNIFORMS OF WWII: Over 250 Uniforms of Armies, Navies and Air Forces of the World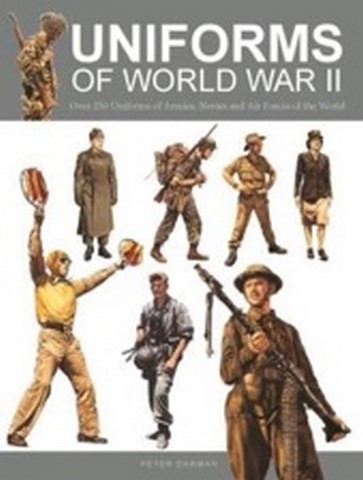 By Peter Darman
Illustrated collection of 260 of the most interesting and distinctive uniforms worn by troops on land, sea and in the air. From the fur-lined winter tunics designed to keep out the cold on the Eastern Front, to the loose-fitting cotton shirts worn in the scorching heat of the desert, this book is a testament to the ingenuity of uniform designers the world over.
Entries are grouped by country and each uniforms is fully illustrated across a page. The many different varieties of badges and rank insignia of each national army are also shown and described in detail. Each artwork is accompanied by a description of what the figure is wearing and why, and the typical weapons and any other equipment the figure would have carried. For each entry, a specifications box gives date, unit, rank, theatre and location.
Many of the artworks are based on famous individuals who fought in the war, and any interesting and 'personal' adaptations to the unforms are shown. From a Captain in the Luftwaffe to a Lieutenant in the Royal Canadian Women's Naval Service, Uniforms of World War II is a unique and fascinating collection of the military clothing worn by the armies, navies and air forces of the world between 1939 and 1945.
| | |
| --- | --- |
| Format | Hardback |
| Pages | 256 |
| Publication Date | Out Now! |
| Pictures | Illustrated throughout |
| Width (mm) | 213 |
| Height (mm) | 285 |
| Dust Jacket |   |
| ISBN | - |
| Price | £19.99 |