USA
040585 - SOLDIERS WITH SPANNERS: The Ground Crews' View During the Second World War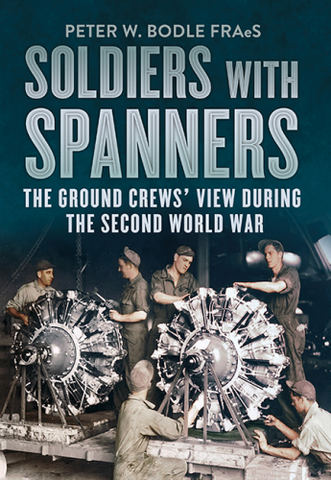 By Peter W Bodle FRAeS
Mainly B-24's of the Second Air Division in Norfolk.
Soldiers with Spanners: The Ground Crews' View During the Second World War is unique in that it tells in pictures the story of the men in the USAAF's 2nd Air Division during the war. The majority of pictures were taken by the young men themselves, providing a uniquely poignant and accurate record of the time. A few were taken by the Station Photographic Sections, and they too show a personal and unique view of the war, through the eyes of young men away from their families for the first time.
These historic pictures capture what went on behind the fences of the many of these plots of 'Little America' that sprang up over East Anglia during the early 1940s. To the English who lived in the vicinity, these plots felt almost like foreign territory. However, the reader is now able to pass the security gates to see the pictures of the men and a few of the girls at work, rest and play. There were good days and bad days, long days and short days... all captured in Soldiers with Spanners as a lasting memento of what those GIs really went through.
| | |
| --- | --- |
| Format | Softback |
| Pages | 144 |
| Publication Date |   |
| Pictures | b/w photos throughout |
| Width (mm) | 170 |
| Height (mm) | 250 |
| Dust Jacket | Yes |
| ISBN | - |
| Price | £16.99 |