051767 - ALL ALONG THE CONTROL TOWER: A Photobook - Volume Two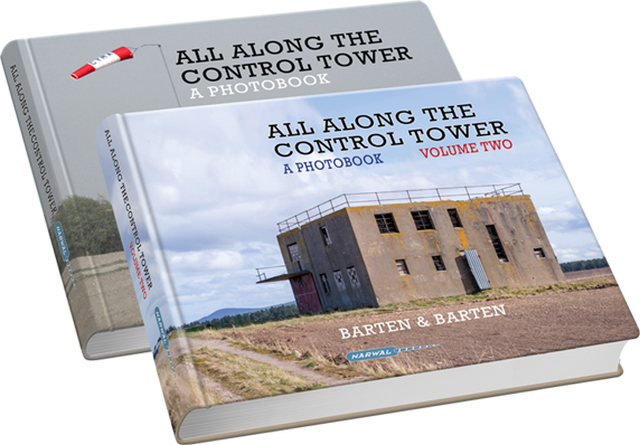 By Barten and Barten
Photo-books about remaining wartime
Control Towers in the UK.
The books contain hi-quality photographs of remaining control towers at RAF airfields in the UK, left over after WW2. Numerous airfields were built from where the RAF and USAAF bombers departed for bombing missions. Strewn all over the British Isles. The objective is only to show them in the state as they are today in the surrounding landscape. Almost all airfields themselves have gone (mostly agricultural today) but many towers (sturdy, austere) still remain. Volume One contains 53 Towers, Volume Two even more: 66. Together 119 relics!
The towers stand alone derelict in the fields, in use as a pig sty, club house, museum, office, or converted into a house. They form part of the English landscape and are mostly to be found in the Eastern counties. Some of them are listed buildings, cultural heritage. The photographic survey is also supported by the stories of the situation in which they are found. Together with geographical co-ordinates and Os reference they are easy to find or visited.
| | |
| --- | --- |
| Format | Hardback, landscape format |
| Pages | 276 |
| Publication Date | Out Now! |
| Pictures | Colour photos throughout |
| Width (mm) | 255 |
| Height (mm) | 210 |
| Dust Jacket |   |
| ISBN | - |
| Price | £39.95 |