051677 - WINGS OVER MEIR: The Story of the Potteries Aerodrome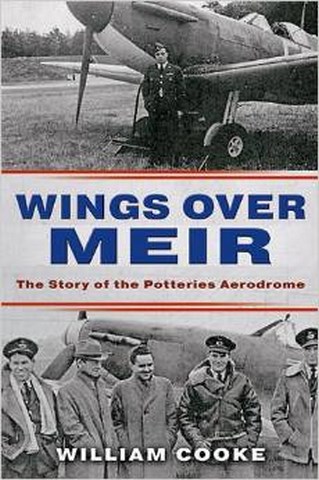 By William Cooke
Wings Over Meir is a highly readable and meticulously researched account of the Potteries' now largely forgotten aerodrome. In setting the scene, the author traces the district's long history of involvement in aerial pursuits, from balloon ascents and death-defying parachute drops to some of the country's earliest flying and gliding exhibitions. Among a host of memorable characters are Dolly Shepherd, Samuel Cody, Gustav Hamel, Harold Hales, and Reginald Mitchell - a young witness to some of these thrilling (and at times hilarious) events.
After the development of the aerodrome, flying activities were concentrated at Meir and the airfield welcomed some of the most celebrated airmen of the day, including Charles Barnard, Sir Alan Cobham, and Charles Scott. Their hugely popular 'flying circuses' are vividly evoked within these pages.
It was, though, as an RAF training school that the aerodrome came into its own, first as a base for the fledgling pilots of the Volunteer Reserve, then as a full-time RAF station upon the outbreak of war. The book profiles some of the pilots who trained there, including at least twelve of 'The Few', one of the Dam Busters, and four of those who took part in The Great Escape from Stalag Luft III. This fascinating glimpse into the area's heroic past is also a moving tribute to those who did not return.
| | |
| --- | --- |
| Format | Softback |
| Pages |  224 |
| Publication Date | - |
| Pictures | b/w photos  |
| Width (mm) |  160 |
| Height (mm) |  240 |
| Dust Jacket |   |
| ISBN | - |
| Price | £14.99 |