German
034243 - FOCKE-WULF Fw190 Vol 3 1944-45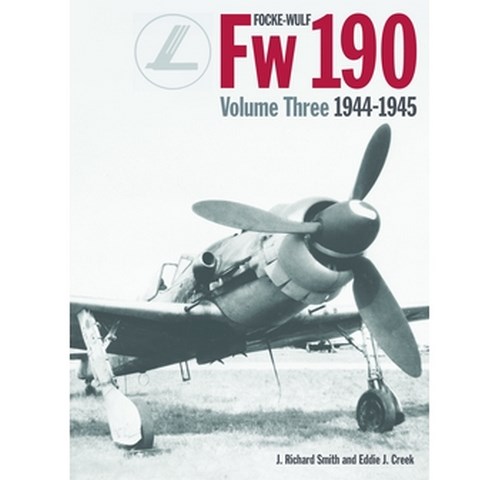 By J Richard Smith and Eddie J Creek
In this, the third volume of the trilogy which Aeroplane magazine has described as 'certainly the definitive work on the Fw190 so far'. Luftwaffe historians J. Richard Smith and Eddie J. Creek turn to the final phases of the Second World War and the crucial role of that the Fw 190 played in defending the airspace over the Third Reich as well as its part in the great battles on the Eastern Front from the summer of 1944.
Despite the reversals that the Axis forces suffered from late 1944 onwards, this was a time of considerable technological advance in aviation design, not least of which related to the Fw 190 and its engines and armament. The authors describe the introduction of the 'long-nosed' Fw 190 D-9, which, with its high-performance Jumo 213 engine, was intended to engage heavy bombers at higher altitudes. Also covered are the later 'D' variants and the progressive development in BMW and Jumo engines, as well as new designs in special weapons such as upward-firing batteries, heavy calibre armament and rockers. Also included in this volume are appendices which include exhaustive data on Fw 190 pilot losses, prototypes and production variants.
The authors have researched the Fw 190 for more than 25 years and have assembled an unrivalled archive of documents, manufacturers' manuals, drawings and illustrations. With literally hundreds of photographs, drawings and specially commissioned colour artwork, this study is undoubtedly the key reference work.
| | |
| --- | --- |
| Format | Hardback |
| Pages | 336 |
| Publication Date | - |
| Pictures | Beautifully illustrated with over 400 photos, close-ups, colour artwork, technical drawings |
| Width (mm) | 220 |
| Height (mm) | 300 |
| Dust Jacket | Yes |
| ISBN | - |
| Price | £55.00 |