German
034258 - THE FOCKE-WULF Fw 190 DORA Volume Two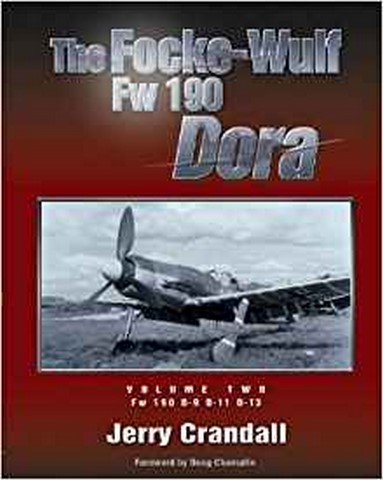 By Jerry Crandall   Illustrated by Thomas A Tullis
Foreword by Doug Champlin, previous owner of Fw 190 D-13 "Yellow 10"
More photos of Fw 190 Doras from miscellaneous and unknown units, many previously unpublished.
54 profiles and 17 top/bottom views plus many scrap pieces of artwork by Thomas A. Tullis
A large section telling the story of JV 44 and the Doras of the Galland Circus with corrections and updates including new previously unpublished photos
Very rare photos, profile and story featuring Adolf Galland's JV 44 Me 262
New information, unpublished photos on the Fw 190 D-11
Detailed story of the rare Fw 190 D-13 and "Yellow 10" with new unpublished photos plus full color restoration photos
Newly discovered Dora 13 photo and profile
Section on WGr 21 cm and R4M rockets including interview with a JGr. 10 pilot with stories and profiles
Large section devoted to color and markings including 32 color photos of excellent recovered aircraft part samples with camouflage paint
19 pages of patterns and colors used by the factories that produced the Fw 190 Doras with the appropriate national markings
Recognition bands, tactical and I.D. bands in full color
Actual patent papers filed by Warnecke and Böhm to register their break-through one-coat paint formula of polymer resin paint for better adhesion to aluminum and magnesium
Original existing paint formulas developed by Luftwaffe's premier paint company Warnecke and Böhm of RLM colors
Camouflage notes by Michael Ullmann
Many technical features of main parts such as landing gear variation, propellers, including numerous color illustrations and scrap views plus many color parts manual images, reports and documents.
Reports of units operating the D-9 in service describing technical problems
A compilation featuring the study of recovered D-9s listing colors, units, pilots and technical details.
Total of 377 photos including 76 color images of Doras!
Complete listing of known Werknummern for Dora aircraft
| | |
| --- | --- |
| Format | Hardback |
| Pages | 400pp |
| Publication Date | Just Arrived! |
| Pictures | 377 photos including 76 colour imates of Doras! |
| Width (mm) | 230 |
| Height (mm) | 300 |
| Dust Jacket | Yes |
| ISBN | 978-0-9761034-1-0 |
| Price | £79.95 |