British
031471 - COMBAT READY by Ian Black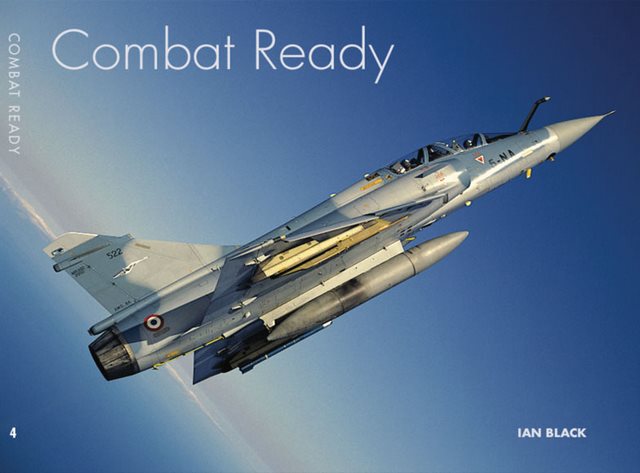 By Ian Black  (signed copies)
Combat Ready is the fourth book in the series of highly acclaimed colour photo albums. I wanted to capture an era in the days before Stealth. The images were shot in the period 1980-2000 when NATO was awash with fighters of charisma and I was fortunate enough to fly in, or against, nearly every type.
Copied from the Author's Website:-
Ian Black is a former RAF Fighter Pilot with a passion for photography and motorcycles. He began his flying career with the legendary McDonnell Douglas F-4 Phantom in RAF Germany at the height of the Cold War. After three years flying "Back set" Ian underwent Pilot Training in 1984-1986 during which time he was awarded prizes for flying ability , aerobatics and unsurprisingly navigation skills. On completion of his flying training Ian was selected to fly the English electric Lightning in the Air Defence Role. Twenty five years earlier, Ian's father had been one of the RAF's first Lightning Pilots and his son was set to become the last. Serving on 11(F) Squadron Ian flew 400 Hours on this Iconic Single Seat fighter before the type was replaced with the swing wing Tornado F3.Spending five years at RAF Leeming in Yorkshire Ian flew with 23 (F) Squadron then 25(F) Squadron before returning to 11(F) Squadron . Ian flew the Tornado in the first Gulf conflict as well as the Falkland Islands and participated in Exercise "Red Flag" at Nellis AFB Nevada USA.
After nearly 1200 hours on the Tornado ADV, Ian became only the second RAF pilot to be selected for the prestigious role of exchange officer on the Dassault Mirage 2000 with the French Air Force. Based at Orange in Provence from 1993-1997 Ian took part in operations over Bosnia before deployment on live operations over Iraq on operation "Southern watch". Ian flew nearly 800 hours on the Mirage 2000 of which 300 hrs were on live Combat missions.
He left the RAF in 1997 and joined Virgin Atlantic Airways where he is currently a Captain on the A340-300 /A340-600/ A330 fleets.
Photography plays a major role in Ian's life with his work appearing on the front pages of the Times , the Sun, and Daily Mirror newspapers as well as cover shots on the Sydney Morning Herald – Recent commissions have included work for Breitling Watches and the Goodwood Festival of Speed.
Ian uses Nikon and Sony Cameras and rides a BMW R1200 GS Adventure as his bike of choice.
| | |
| --- | --- |
| Format | Hardback (landscape format) |
| Pages | 128 |
| Publication Date | Available |
| Pictures | colour throughout |
| Width (mm) | 310 |
| Height (mm) | 252 |
| Dust Jacket | Yes |
| ISBN | - |
| Price | £39.99 |