American
030906 - SUPER SNOOPERS - The Evolution and Service Career of the Specialist Boeing C-135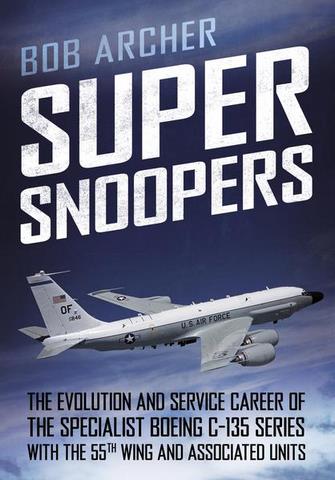 By Bob Archer
Super Snoopers details the aircraft, equipment, sensors, air bases involved and limited operational details – as much remains highly classified. Additionally, stories by the personnel involved who have flown these missions and often faced their quarry at very close range.
The majority of aircraft involved are the Boeing C-135 series, including more than 100 different airframes of forty-eight different versions. Missions include strategic intelligence, airborne command and control, treaty compliance, Open Skies, weather reconnaissance, aerial refuelling and transportation.
This comprehensive volume is lavishly illustrated with many previously unpublished photographs, details the different aircraft missions, bewildering programme names, operating locations and flying units involved.
| | |
| --- | --- |
| Format | Hardback |
| Pages | 352 pages |
| Publication Date | Out Now! |
| Pictures | 135 b/w and 72 colour photos |
| Width (mm) | 172 |
| Height (mm) | 248 |
| Dust Jacket | Yes |
| ISBN | 978-1-78155-769-3 |
| Price | £40.00 |