UK
041529 - SIX WEEKS OF BLENHEIM SUMMER: An RAF Officer's Memoir of the Battle of France 1940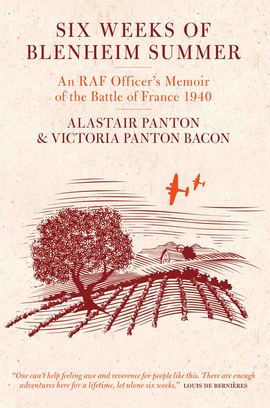 By Alastair Panton and Victoria Panton Bacon
Six Weeks of Blenheim Summer is a vivid and lyrical memoir of life as an RAF reconnaissance pilot in France during the hellish summer of 1940. It brings to life the fear, loneliness and pain that Alastair Panton and his comrades came to live with during those long weeks, as well as the bravery, camaraderie and humanity that made those unpredictable days more bearable.
The aeroplane Panton captained throughout this intense period was a Bristol Blenheim Mark IV. He saw the Blenheim as his friend and saviour. It was the vehicle from which he and his crew were able to spot the enemy and save lives, repeatedly withstanding shooting and bombardment to facilitate dramatic landings and rescues.
Yet despite these heroic adventures, culminating in his being shot down a fourth time, captured and made a prisoner of war, Panton describes Six Weeks of Blenheim Summer as a story of failure. Whilst he survived, so many of his friends and comrades did not, and this grief never left him.
Panton's extraordinary book, written in the aftermath of the war but discovered posthumously, is edited and introduced by his granddaughter Victoria Panton Bacon. A candid and gripping read, this is very much the story of a pilot and his plane.
| | |
| --- | --- |
| Format | Hardback |
| Pages | 304 |
| Publication Date | Available Now! |
| Pictures | details to follow |
| Width (mm) |   |
| Height (mm) |   |
| Dust Jacket |   |
| ISBN | - |
| Price | £16.99 |