SECOND HAND BOOKS
804724/50 - A COLD WAR LEGACY: A Tribute to Strategic Air Command - 1946-1992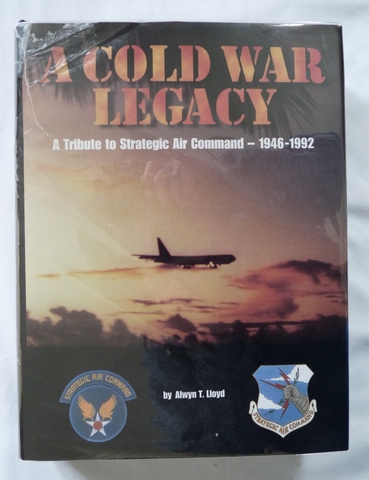 By Alwyn T Lloyd.  Published by Pictorial Histories, 2000.
This "labor of love" is a veritable notebook of recollections, data, SAC stories, and vignettes reporting the various stages of SAC's evolution. Lloyd's detailed accounts of the commanders, people, places, weapons systems, and operational concepts are presented in a way to give personal identity and recognition to SAC's people as they went about making history. Everyone who served in the Command will find his or her circumstances reflected in this very complete historical work.
Some damage to the top left hand corner of dust-jacket as pictured plus the spine of the book has been damaged.  This looks like a new book which has perhaps been damaged in transit as the pages are all intact and in very good, clean condition.  Reduced price due to the damage.
| | |
| --- | --- |
| Format | Hardback |
| Pages | 714pp |
| Publication Date | One copy available |
| Pictures | b/w photos throughout, several pages of colour, maps, etc |
| Width (mm) | 220 |
| Height (mm) | 285 |
| Dust Jacket | Yes |
| ISBN | - |
| Price | £30.00 |