270213 - THE SUPERMARINE SPITFIRE Part 2 (Griffon Powered) including the Seafire - a complete guide to the Famous Fighter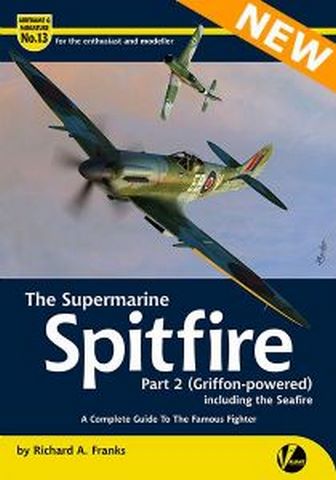 By Richard A Franks - Airframe & Miniature Series, No 13
Thirteenth title in the well-established Airframe & Miniature series is The Supermarine Spitfire: Part 2 - A Complete Guide To The Famous Fighter by Richard A. Franks.
The Spitfire is probably the most popular aircraft modelling subject around. Our latest book will go some way towards unpicking the bewildering choice of variants and schemes that apply to the Griffon-powered versions.
This thirteenth book in our much-acclaimed series is our biggest ever and will contain a colossal 272 pages packed with vital information that no active modeller and Spitfire enthusiast should be without.
Contents include technical information; walk-around images and diagrams; camouflage and markings; model builds; colour side views by Richard J. Caruana; 3D isometrics by Juraj Jankovic; and kit builds by Libor Jekl and Steve A. Evans.
The Supermarine Spitire - Part 2 contains:
40+ pages of technical information
30+ pages of walk-around images and technical diagrams
10+ pages of camouflage and markings
25+ pages of model builds and modelling information
200+ photographs including wartime images
Colour side views and four-views by Richard J. Caruana
3D isometric views of all variants by Juraj Jankovic
Specially commissioned full kit builds by Libor Jekl and Steve A. Evans
Specially commissioned front cover artwork by Jerry Boucher and Dani Zamarbide
Specially commissioned front cover artwork by Jerry Boucher
| | |
| --- | --- |
| Format | Softback |
| Pages | 272 |
| Publication Date | Now available |
| Pictures | profusely illustrated |
| Width (mm) | 210 |
| Height (mm) | 297 |
| Dust Jacket | No |
| ISBN | 978-0-9129320-0-9 |
| Price | £21.95 |