600531 - THE AVIATION HISTORIAN: Issue 31 - April 2020 - Mountain Tiger, The Northrop F-5 In Swiss Air Force Service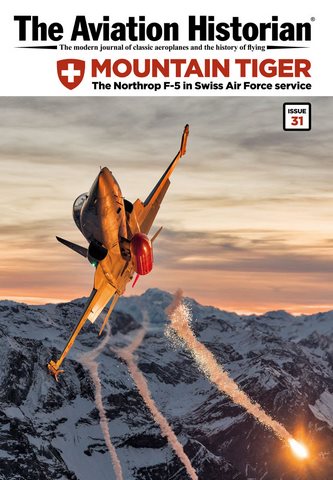 Published Quarterly by The Aviation Historian
Taken from the Aviation Historian website:-
From the wildly optimistic attempts of French aeronaut Louis Damblanc to build a very early form of tilt-rotor just after World War One, to our cover-story about the epitome of the small, nimble Cold War jet fighter – the Northrop F-5 – in Swiss Air Force service. The latter includes some of author Peter Lewis's eye-popping photography of the Tiger over the Alps; and we have extended two of the images across a special double gatefold.
Along the way, we also take in Tom Culbert's historical tribute to the intrepid founders of the "Hump" wartime aerial route over the Himalayas – a remarkable example of four-way co-operation between the RAF, USAAF, PAA-Africa and the China National aviation Corporation (CNAC); Lennart Andersson's investigation into top secret inter-war aerial chemical warfare experiments by Germany and the Soviet Union, and Professor Keith Hayward's political analysis of the malheureuse Anglo-French Variable Geometry project débâcle, if you'll pardon my French.
We also offer a welcome return to Amaru Tincopa's Wings Over Peru series, in which he traces the career of the Douglas 8A in Peruvian service, incorporating a level of detail that was simply unavailable in English as little as a decade ago. This ground-attack monoplane, an update of the Northrop A-17 design used by the USAAC, served in Peru from 1939 to 1958. Being able to bring this material to a wider audience – thanks to the sterling efforts of dedicated authors and researchers like Amaru – is a genuine pleasure, and aviation history as a whole is all the richer for it.
The subject of aero-engines is often placed in the "too difficult" box by mainstream aviation-history magazines, and yet it is perennially popular with readers. We are fortunate in this issue to have an appraisal of the remarkable and long-serving Bristol Hercules sleeve-valve radial engine. Its author, Ugo Vicenzi, has also created accompanying CAD (Computer-aided Design) artworks of the innovative powerplant in order to help explain its inner workings.
Elsewhere in TAH31 we look at Italy's first four "grandfather" airlines, formed in the early 1920s; we complete a two-parter on Australian Department of Civil Aviation anti-Japanese espionage in Portuguese East Timor during World War Two; and we share a business-jet pilot's recollections of flying a B-24 Liberator.
Back issues available.  Please enquire for details.
| | |
| --- | --- |
| Format | Softback |
| Pages | 130pp |
| Publication Date | Out Now! |
| Pictures | profusely illustrated throughout in colour and b/w |
| Width (mm) | 170 |
| Height (mm) | 245 |
| Dust Jacket | No |
| ISBN | - |
| Price | £12.50 |