264125 - NATTER: Manned Missile of the Third Reich - Historic Step to Human Spaceflight (first edition with dust-jacket)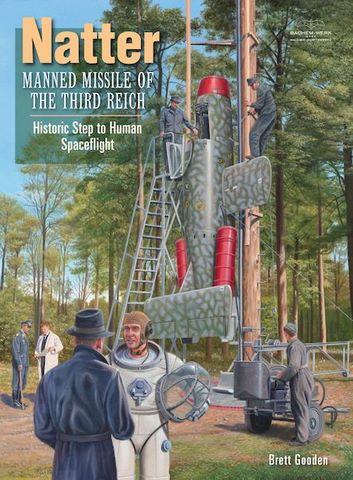 By Brett Gooden
This monumental work of over 500 pages and 800 illustrations records in meticulous detail the history and technology of the remarkable manned rocket interceptor, the Bachem Ba 349 Natter.
Its author, Lecturer in Space Medicine, Dr. Brett Gooden, spent 25 years researching and writing this groundbreaking book, including undertaking multiple research trips to Germany in order to visit museums, archives and historic sites related to the history of this unique machine.
The extreme secrecy both during and after the war that enveloped the true nature of the interceptor prevented post-war historians from fully appreciating the highly advanced nature of Projekt Natter.  Until recent times it has remained for many commentators an object of some ridicule, seen as simply a primitive little wooden aircraft of no particular significance to the history of aviation. These writers may be forgiven because it is only now apparent that both the British and American authorities had carefully and systematically redacted or classified a large number of pertinent German documents as well as post war technical reports assembled after the detailed examination of the captured machines. In this fashion the true nature of the Natter, its technology and its mode of operational deployment were effectively suppressed. Now Dr. Gooden has been able through his persistence and his meticulous research of all currently accessible information about the Natter to piece together the previously secret aspects of the Natter project.
In a desperate attempt to blunt the devastating raids on German towns and industry it was realised that only a quantum leap in technology would be required.  So through the brilliance of chief designer Erich Bachem the Natter evolved as a manned vertical take-off rocket interceptor for the protection of the vital industrial complexes. In the space of less than one year the Natter went from design concept to operational readiness with initial deployment planned for April 1945. However in the last days of the war, although the Natter lost its relevance as a war machine, another underlying drive for many of the engineers was the dream that this little machine would lay the foundations for future human spaceflight.
Illustrated throughout with rare and many previously unseen images (including colour photographs), technical drawings and maps, this is the most comprehensive book ever on the V2, and includes important new details of the post-war development and testing of the rocket and its role in the dawning of the space age.
This is the first edition with dust-jacket.  We have a few copies available.  When these are gone, they are gone!
| | |
| --- | --- |
| Format | Hardback |
| Pages | 536pp |
| Publication Date | Available  |
| Pictures | 800 illustrations |
| Width (mm) | 230 |
| Height (mm) | 310 |
| Dust Jacket | Yes |
| ISBN | 9780646997483 |
| Price | £60.00 |