010375 - LOSSES OF THE US 8TH AND 9TH AIR FORCES Volume Five, ETO Area - October 1944 - December 1944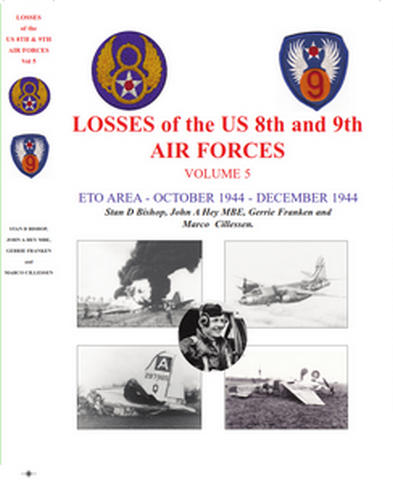 By Stan D Bishop, John A Hey, Gerrie Franken and Marco Cillessen.
Covers the period from 1st October through to 31st December 1944 plus Operation Market Garden.   This volume includes Operation "Market", the airborne invasion of Arnhem and Nijmegen, Holland.  This operation happened in September 1944 and should have been included in Volume 4, however due to the size of the operation and the meticulous research required, it was felt that more time was required in order to be able to compile the mass of information in a presentable format.
Volumes 3 is currently available at £59.95.  (Special offer at £30.00 if purchased with another volume).  Volumes 1, 2 and 4 are now out-of-print.
Volume 6 is due to be published June/July 2019.  Full details to follow.
| | |
| --- | --- |
| Format | Hardback |
| Pages |  628 |
| Publication Date | Out Now |
| Photos | b/w photos throughout |
| Width (mm) | 210 |
| Height (mm) | 300 |
| Dust Jacket | Yes |
| ISBN | - |
| Price | £60.00 |