010375 - LOSSES OF THE US 8TH AND 9TH AIR FORCES Volume Five, ETO Area - October 1944 - December 1944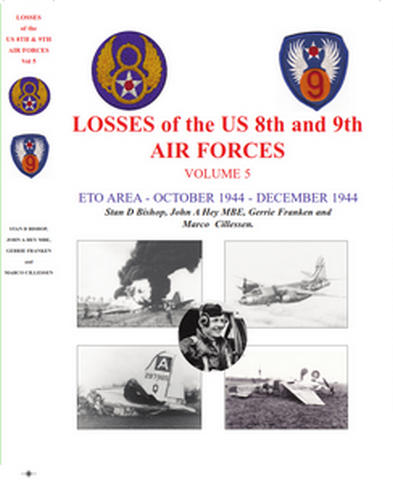 By Stan D Bishop, John A Hey, Gerrie Franken and Marco Cillessen.
Long awaited in this hugely popular series of books.  Stan has had a difficult year, not only coping with the loss of his brother but also fighting illness.  Fortunately his health has now greatly improved and he has not only finally finished this book but is now motoring on with volume six which he hopes will be the last volume.
Covers the period from 1st October through to 31st December 1944 plus Operation Market Garden.  
Volumes three and four are currently available.  Stan is considering a re-print of volumes one and two: Please contact us to register your interest.
| | |
| --- | --- |
| Format | Hardback |
| Pages |  628 |
| Publication Date | Out Now |
| Photos | b/w photos throughout |
| Width (mm) | 210 |
| Height (mm) | 300 |
| Dust Jacket | Yes |
| ISBN | - |
| Price | £60.00 |