SECOND HAND BOOKS
804749/52 - COVENANTS WITH DEATH: "We have made a covenant with Death, and with Hell are we at agreement"  Isaiah XXV 15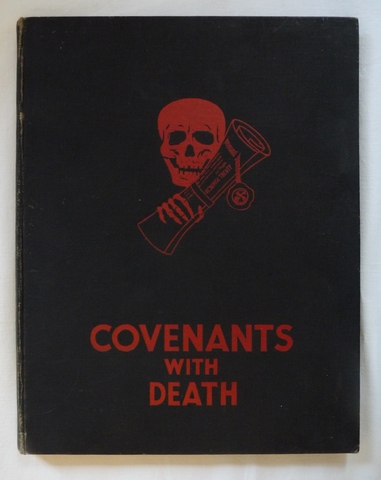 Edited by T A Innes and Ivor Castle.  Published by Daily Express Publications, 1934.
The purpose of this book is to reveal the horror, suffering and essential bestiality of modern war, and with that revelation, to warn the nation against the peril of foreign entanglements that must lead Britain to a new Armageddon - all the pictures are taken from authentic photographs.
The cover in black cloth with red lettering is slightly worn around the edges and particularly top and bottom of spine.  There is foxing to the front blank facing page and rear blank page but otherwise the book is in a good clean condition.  
| | |
| --- | --- |
| Format | Hardback |
| Pages | not numbered |
| Publication Date | 1934 |
| Pictures | sepia toned images throughout  |
| Width (mm) | 230 |
| Height (mm) | 290 |
| Dust Jacket | No |
| ISBN | - |
| Price | £75.00 |