011371 - BEWARE OF THE DOG AT WAR: An Operational Diary of 49 Squadron Spanning Forty-nine Years, 1916 - 1965 (Softback, 2nd printing, August 1998) Signed by Ted Cachart!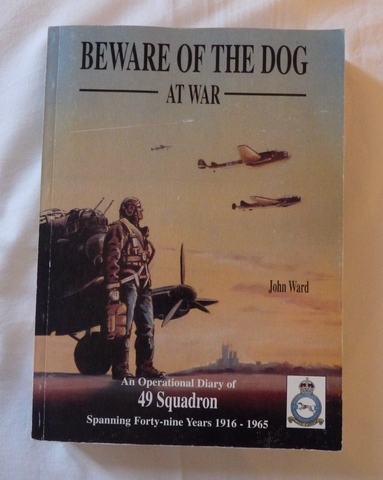 By John Ward with Ted Cashart (signed by Ted Cashart).  JoTe Publications.
An operational Diary of 49 Squadron, Royal Air Force, Bomber Command, Spanning 49 Years, 1916 to 1965.
This is the softback edition, re-printed August 1998.  Originally published 1997.  This is a new, unused copy but has a crease across the rear cover and also the last page, it has one of our old labels stuck on the rear cover; it's a little worn around the edges and the outer edges of the bottom pages are very slightly grubby but the content is clean and bright throughout. 
| | |
| --- | --- |
| Format | Softback |
| Pages | 558 |
| Publication Date | One copy left in stock.   |
| Pictures | b/w photos. |
| Width (mm) | 180 |
| Height (mm) | 250 |
| Dust Jacket | No |
| ISBN | 0-9532252-0-8 |
| Price | £95.00 |
|   |   |