011417 - THE RAF PATHFINDERS: Bomber Command's Elite Squadrons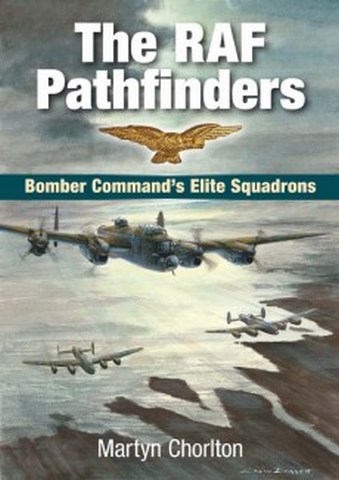 By Martyn Chorlton
Twenty five minutes was what it took to run the gauntlet of the Berlin air defences from end to end at full stretch. The flak barrage put up from the ground was merciless and, if your plane was caught in the searchlights, you had little chance of survival. The Luftwaffe night fighters were waiting for you on the way home as well.
In a new history of the RAF Pathfinder Squadrons, aviation historian Martyn Chorlton outlines the increasingly successful role they played in bringing accuracy and effectiveness into the air war that Bomber Command waged against the Third Reich during 1942-1945.
The role of the Pathfinder force was to locate the target and lay down fire markers for the mass of bombers following behind them. It was a successful technique that had been used against Coventry and other cities by the Germans in 1940.
Now the RAF needed its air force of elite bomber crews, hand picked for their navigation ability, high morale, skills outside the normal range of flying tasks, and in particular for their cold determination when in action to, in RAF parlance, 'Press on Regardless'.
They were the bravest of the brave. They had to be. To join a Pathfinder Squadron was a rare privilege and all the crews were volunteers. But with it went a huge leap in the liklihood of being shot down as their planes led the way through the dark smoke filled skies above occupied Europe.
The book describes all the major operations in which the Pathfinders were involved. These include the Battle of the Ruhr, the Berlin Offensive of 1943/4, and the celebrated raid on the German V2 rocket works at Peenemunde.
It is a tribute to those who flew with a Pathfinder Squadron. They flew some 50,000 individual sorties against enemy targets. The cost in human lives was very heavy; some 3,700 Pathfinder aircrew were killed in operations.
| | |
| --- | --- |
| Format | Softback |
| Pages | 192 |
| Publication Date | Out Now |
| Pictures | - |
| Width (mm) | 163 |
| Height (mm) | 229 |
| Dust Jacket | No |
| ISBN | - |
| Price | £14.95 |