600542 - THE AVIATION HISTORIAN - Issue 42 - Firestreak! The UK's First Frontline Air-to-Air Missile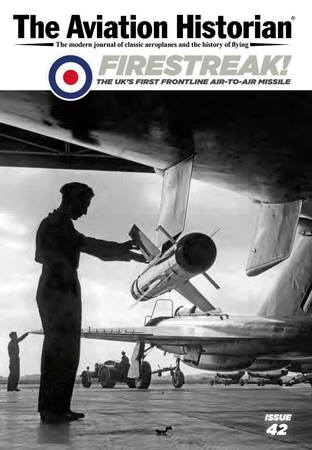 Published Quarterly by The Aviation Historian
About the current issue as written by Nick Stroud, editior of the Aviation Historian:-
In this first issue of 2023, Regular readers may remember Matt Bearman's investigation in TAH20 into the propeller problems that beset Westland's Whirlwind cannon-armed fighter – a type that still engenders delight and/or derision (delete according to your philosophy) out of all proportion to its operational success. Now Paul Stoddart FRAeS revisits the shapely twin in the first half of a two-part article in which he applies some robust mathematics to determine whether it might have been able to compete with its more successful contemporaries had its notorious powerplant problems been addressed early on. Would upgraded Rolls-Royce Peregrines have made it a world-class fighter? Would different engines? With his usual tenacity in digging into the dustier corners of official archives, Professor Keith Hayward FRAeS exposes a classic 1980s example of "Secret Whitehall", in which a British state-of-the-art jet fighter project – the BAe P.110 – was proposed for sale to Iraq, a mere decade before RAF Tornadoes were unleashing a desert storm on its capital. The sale came to naught, but the legacy of the P.110 laid the groundwork for the advent of the RAF's Eurofighter Typhoon.
Aircraft carriers are a perennially popular subject, but coverage by aviation historians inevitably tends to approach them from a familiar perspective. We are thus delighted to have maritime historian Professor Aidan Dodson aboard in this issue to explain how the Royal Navy's first HMS Eagle emerged from the repurposing of a battleship ordered by Chile, and how Britain acquired it partly in exchange for military aircraft.
The first of our series on the nuts-and-bolts details of British aerial weapons – the RP-3 rocket projectile in TAH41 – was very well-received, and in this issue, Chris Gibson and technical artist Ian Bott get under the skin of Firestreak, the UK's first frontline air-to-air missile. Towards the back of the issue, Chris also takes a fascinating look at "base-burning", an odd and virtually unknown aerodynamic technique that was taken very seriously in the 1970s — and which remains virtually unknown today.
On the civil-aviation side, Maurice Wickstead completes his two-part history of French post-war independent airline UTA; Ralph Pegram begins a two-parter about the gastropodically slow evolution of Britain's freighter aircraft between the 1920s and the late 1940s; and J-C Carbonel describes Breguet's Léviathans, the series of giant transport biplanes developed in the years after the First World War.
 Recent Issues:-
Issue 41: Storm Front - The Typhoon & The RP-3 Rocket
Issue 40: Rio or Bust! Crossing The South Atlantic, 1922
Issue 39: The New Frontier - Comet: Too Important to Fail?
Issue 38: The Lion of Africa - Ethiopian Airlines - The Jet Age
Issue 37: Magnetic South - Sweden's Caribbean Connection
Issue 36: Read All About It!  Switzerland's "Hunter 80" Programme
Issue 35: Clippers of the Clouds - Pan Am's "Rogue" Atlantic Constellations
Issue 34: On A Wing And A Prayer - The 1971 Rolls-Royce Bankruptcy
Issue 33: A Very British Tale - 75 Years On - The Brabazon Committee
Issues 28 to 32 currently on special offer at £9.50 each.
| | |
| --- | --- |
| Format | Softback |
| Pages | 130 |
| Publication Date | Out Now! |
| Pictures | profusely illustrated throughout in colour and b/w |
| Width (mm) | 170 |
| Height (mm) | 245 |
| Dust Jacket | No |
| ISBN | - |
| Price | £13.50 |