600536 - THE AVIATION HISTORIAN - Issue 36 - Read All About It! Switzerland's "Hunter 80" Programme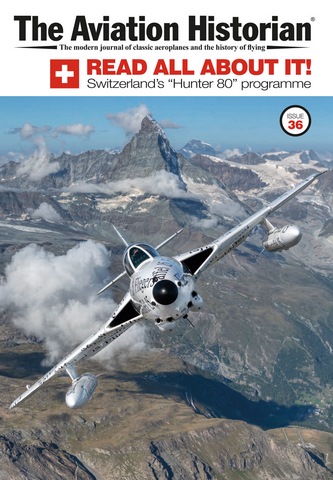 Published Quarterly by The Aviation Historian
About the current issue as written by Nick Stroud, editior of the Aviation Historian:-
We begin with our cover story. Seventy years ago, on July 20, 1951, Sqn Ldr Neville Duke lifted the shapely prototype Hawker P.1067 from the runway at Boscombe Down for its maiden flight, prefacing the long, illustrious history of the Hunter, described by its designer Sydney Camm as "my most beautiful aeroplane". Not only did the type become one of Britain's most enduringly popular post-war military aircraft (with pilots and public alike), it was also a commercial success, being exported to 22 nations over a career spanning more than six decades.
Nearly 30 years after that first flight, Switzerland, which had acquired its first Hunter Mk 58 interceptors in 1958, saw life in the old dog yet, and resolved to teach it new tricks as a ground-attacker. Thus was the elegant fighter reconfigured to carry contemporary cutting-edge air-to-ground weaponry as part of the Flugwaffe's "Hunter 80" programme. Using declassified Swiss tactical documents and his own stunning air-to-air photography, Peter Lewis opens a two-part series on the programme in celebration of the 70th birthday of this most adaptable – and exquisitely graceful – Cold War icon.
Firepower of another era comes to the fore in A Question of Calibre, armament specialist Mark Russell's major article explaining exactly why the RAF persisted in using comparatively weedy 0·303in machine-gun ammunition well into World War Two, instead of the considerably punchier 0·50in bullets used by the USA.
A different kind of power – this time political – is under the spotlight in The Westland Affair, Prof Keith Hayward's dissection of the notorious events of 1985–86, which centred on the Yeovil-based helicopter manufacturer and nearly spelt curtains for Margaret Thatcher's Conservative government. Utimately, though, it led to the globalisation of the UK's defence industrial base.
We were much saddened to hear of the death of our old friend, author, pilot and renowned airshow commentator Melvyn Hiscock after a long battle with cancer, on February 20, 2021. As anyone who met him will know, his enthusiasm was infectious and his knowledge both broad and deep. At the time of his death, Melvyn had just completed an article on a "what-if" concerning long-range photo-reconnaissance Spitfires for us, and we present it here in tribute to a longstanding friend and one of aviation's "true believers". Blue skies, Melv.
On a happier note, other articles in the current issue examine Imperial Airways flying-boat travel in the 1930s (sounds luxurious, but mostly wasn't); early American aviators touring Japan; the remarkable story of Peru's de facto national airline; the US Strategic Air Command's use of Boeing RB-29 Superfortresses in developing its global reconnaissance capability; and features on two eccentric Frenchmen – one of whom built an aircraft with rotating wings (spinning not like a helicopter rotor but around their own spanwise axis, that is), and another who built an Edwardian flying house. So, having stowed the crockery and shut the cat flap, it's away we go . . .
Back issues available with 10% discount for a single copy, 15% discount for 2 or more copies.  Please enquire for details.
| | |
| --- | --- |
| Format | Softback |
| Pages | 130pp |
| Publication Date | Out Now! |
| Pictures | profusely illustrated throughout in colour and b/w |
| Width (mm) | 170 |
| Height (mm) | 245 |
| Dust Jacket | No |
| ISBN | - |
| Price | £13.50 |