530146 - U.S. DODGE: The Development and Deployment of Dodge Military Trucks 1940 - 1975 (Two Book Set)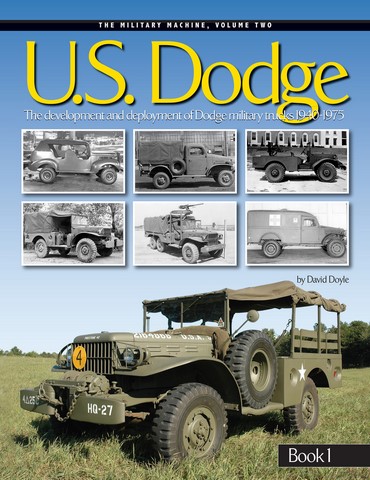 By David Doyle
U.S. Dodge, a massive two-book work on the amazing, never before told story of Dodge trucks used by the United States Military from 1940 to 1975. From their beginnings as modified civilian trucks to their development into some of the world's finest tactical vehicles, these two books cover the story in the greatest detail.
Authored by well-known American military vehicle expert David Doyle, U.S. Dodge recounts the development and deployment of the Dodge military trucks using thousands of never before seen photographs—many from previously inaccessible private and industrial archives. The author has also combed original Chrysler and U.S. Military documents to provide the most accurate picture to date of the huge industrial undertaking that was to eventually produce over 400,000 tactical trucks for the U.S. military and its allies during WWII.
Divided into two parts encompassing two large volumes, the narrative begins in Book One with full coverage of the development the VC series. The books then cover the WC series of ½, ¾-ton and 1½-ton trucks in all their wartime incarnations. U.S. Dodge devotes a full ten chapters to this aspect of the story alone. 
| | |
| --- | --- |
| Format | Softback |
| Pages | 1,018 |
| Publication Date | Coming Soon! |
| Pictures | 1,750+ illustrations |
| Width (mm) | 228 |
| Height (mm) | 292 |
| Dust Jacket |   |
| ISBN | - |
| Price | £97.95 - Two Book Set |