051813 - PALACE AT WAR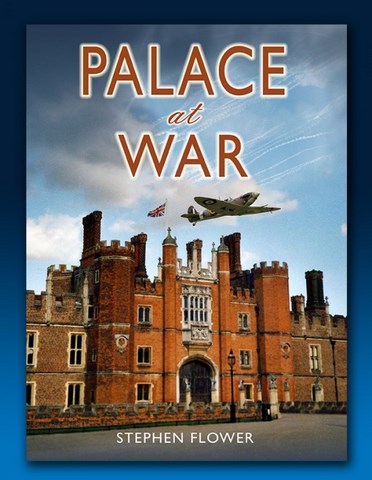 By Stephen Flower
To most people in Britain, and from abroad, Hampton Court Palace will mean Henry VIII, six wives, beheadings, ghosts and the Maze. But there is another story to be told; of the Palace and its people during the two World Wars.
The author and Warder of Hampton Court Palace's State Appartments, Stephen Flower writes;
"This book began as a result of my first visit to Hampton Court Palace in 1994. In the Chapel Royal I saw two memorial plaques, and immediately recognised Captain Kennedy of HMS Rawalpindi on one of them. As a State Apartment Warder, I was frequently asked by visitors whether the Palace had been bombed. A check showed not only that it had, but also that nearby in Bushy Park much of the D-Day invasion planning had taken place. Further checks sketched the outline of a story whose contents were often surprising.
"Inevitably, some visitors asked what had happened in the surrounding area, so, although Hampton Court is the main subject, other references to the wartime history of Hampton village, the Twickenham area and other royal residences have been included.
As a reminder of the human cost, I have followed up the stories behind some of the Chapel Royal names. There was one omission – Captain Fegen of HMS Jervis Bay – but his story has been included here.
No history of the Palace would be complete without reference to Bushy Park – a royal estate that saw much use during both World Wars."
| | |
| --- | --- |
| Format | Softback |
| Pages |   |
| Publication Date | - |
| Pictures |   |
| Width (mm) |   |
| Height (mm) |   |
| Dust Jacket |   |
| ISBN | - |
| Price | £14.95 |