British
031521 - AVRO LANCASTER TO YORK: Civil Lancasters, Lancastrians & Yorks (Air Britain)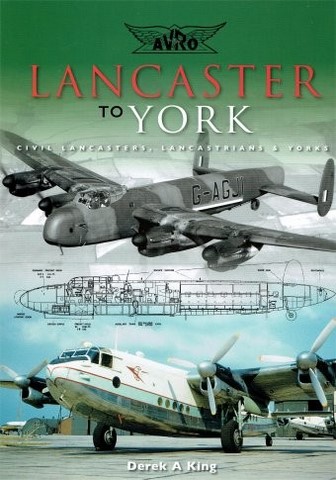 By Derek A King
Victory was still uncertain and production of the Lancaster bomber in full flow when the Avro company launched a versatile four-engined transport aircraft, the York.
The York first flew in July 1942. It utilised the proven design of the Lancaster's wing and tail unit and harnessed the reliability of the Rolls-Royce Merlin.
Its primary role was to fly service personnel between the UK and its far-flung territories. Some aircraft were luxuriously fitted for use by VIPs.
RAF Yorks played a crucial role in the Berlin airlift, taking vital raw materials into the besieged city and bringing refugees out. At pain of interception by Soviet fighters, the Yorks were confined to narrow corridors. Had western Berlin fallen, the subsequent history of the Cold War would have been quite different.
The state-run British South American Airways and British Overseas Airways Corporation used the York extensively, notably on long-distance routes where there were few navigational aids. The York was also used by British independent airlines and operators around the world into the 1960s.
Commercially less successful was the Lancastrian, which was basically an attempt to mould the Lancaster into an airliner. Nevertheless, the type enabled services to be opened to the (then) British Empire and South America immediately after the war.
These are only the principal themes of Derek King's exhaustive study. The book includes detailed individual aircraft histories, more than 800 photographs (160 in colour) and colour side views. There is much to fascinate historians and anybody who was involved in aviation during those tumultuous years.
| | |
| --- | --- |
| Format | Hardback |
| Pages | 390 |
| Publication Date | Available |
| Pictures | Over 800 photos, 160 in colour plus colour side-views. |
| Width (mm) | 220 |
| Height (mm) | 305 |
| Dust Jacket | Yes |
| ISBN | 978-0-85130-490-8 |
| Price | £47.50 |