British
031610 - DAMBUSTER LANCASTER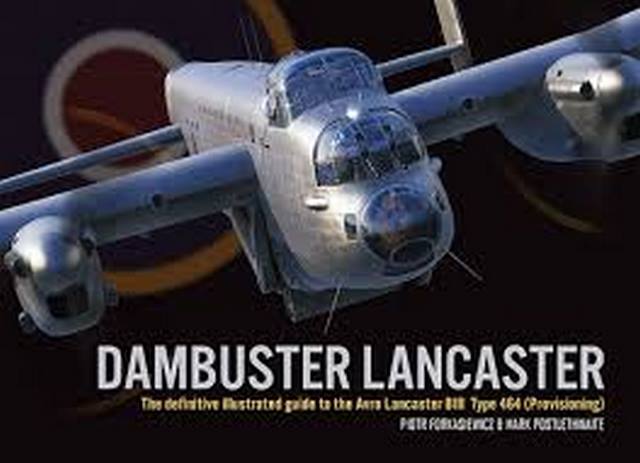 By Mark Postlethwaite and Polish Artist, Piotr Forkasiewicz
A stunningly illustrated and detailed history of the Type 464 (Provisioning) Lancaster.  Much has been written and published over the years concerning the Dambusters and their attack on the Ruhr dams on 16th/17th May 1943, but the aircraft they flew in remains an enigma.  The Type 464 (Provisioning) as it was technically known was still on the secret list many years after the war and what few photographs exist of the type are dark and not easy to analyse.  Add to this the fact that many of the Type 464 modifications were not officially designed but were developed on the squadron and it is small wonder that there is no comprehensive study of the Type 464 to be found.
Over the years, authors, model makers and artists have consistently repeated the same mistakes and misconceptions regarding the Type  464, leading to most if not all published work to date containing some form of errors.  Now for the first time, readers can explore every aspect of the Dambuster Lancaster both inside and out using a specially commissioned 3D model that has taken over 10 years to complete.
The model is the work of Polish artist Piotr Forkasiewicz who worked with historians, veterans and archives from around the world to construct the most accurate reproduction of a Type 464 ever seen.  Fellow artist and Dambuster historian Mark Postlethwaite agreed to write the text and to delve into the individual histories of all 23 Type 464s, with both artists then working on the overall design of the book.   The result is quite breathtaking.  128 pages full of close up views of the aircraft both in natural metal and camouflage, detailed studies inside the cockpit area, a full exploration of Upkeep and the fusing systems and finally detailed histories of all 23 Type 464s using every known photograph to illustrate each airframe.
Printed using the highest quality art paper and binding materials, this book is essential reading for any Dambuster enthusiast but moreover is a beautiful and worthy tribute to the aircraft that made history on that night in May 1943.
| | |
| --- | --- |
| Format | Hardback, landscape format |
| Pages | 128 |
| Publication Date | Available |
| Pictures | illustrated in colour throughout |
| Width (mm) | 300 |
| Height (mm) | 210 |
| Dust Jacket | No |
| ISBN | - |
| Price | £30.00 |